By Sarah Simonovich on Apr 2nd 2018
How the first cat got to cross the Atlantic

Cats are no strangers to notoriety. Ancient Egyptians worshipped a cat Goddess and held felines in the highest esteem. Today, there is no shortage of internet-famous cats, to the point where we are essentially worshipping them on social media. Given cats' status ranging from our ancient past to technological present, it's only fitting that one of the earliest in-flight radio transmissions was about a cat.

Animals themselves have not been strangers to flying (and I'm not just talking about pigeons here, either). On September 19, 1783, the Montgolfier Brothers sent a duck, a sheep, and a rooster into the air in one of their balloons, making these barnyard friends the first passengers to ever travel through the air in a balloon. Nearly 150 years later on September 13, 1932, a woodchuck named Tailwind was aboard a monoplane headed across the Atlantic en route from New York to Rome. Between these two aviation feats, a stray cat found himself flying across the Atlantic and flying into history-in more ways than one.
Aboard America

On October 15, 1910, American journalist, explorer, and aeronaut Walter Wellman attempted to make the first Atlantic crossing by air. This was not his first attempt at a historical crossing in an airship. On December 31, 1905, Wellman announced that he was going to attempt to reach the North Pole in an airship. He attempted an aerial voyage to the North Pole in September, 1907 and a second one in 1909, but with mechanical failures, it never happened.

In 1910, though, Wellman expanded the size of his non-rigid airship, America, and prepared for launch from Atlantic City, New Jersey. With him, Wellman had a crew of five and two interesting non-human passengers: an early radio set and a cat.

This spark gap radio was one of the earliest radio sets ever carried on an aircraft. The cat, called Kiddo, was a stray hangar cat.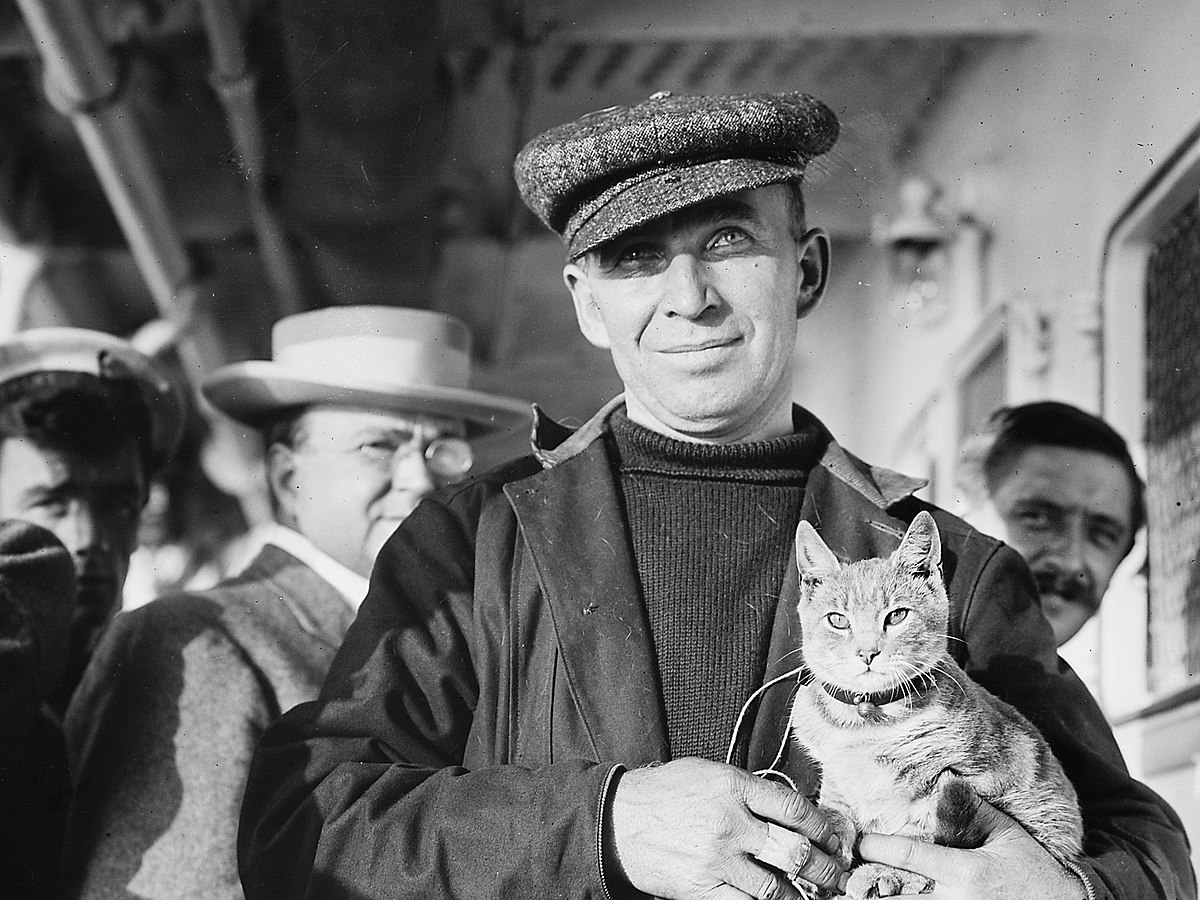 "M. Vaniman and cat." George Grantham Bain (Repository: Library of Congress Prints and Photographs Division Washington, D.C.
Kiddo Takes Flight

While black cats have unlucky reputations, Kiddo was to be a good luck charm. He was to help them get across the Atlantic. This cat, however, didn't feel so lucky to be in the airship with them. Only about twenty minutes into their flight, the navigator F. Murray Simon wrote the following into his log book: -I am chiefly worried by our cat, which is rushing around the airship like a squirrel in a cage.-

Just as Kiddo wasn't too happy to be there, members of the crew weren't too enthused by his presence. At one point, crewman Jack Irwin said the cat was -raising hell- and -driving him mad.- He believed they should leave him behind before they got much farther. Simon, however, believed they needed to keep the cat at all costs because without it they'd have no luck.

When put to a vote, the cat was ultimately voted off the airship. The crew put Kiddo in a canvas bag and started to lower him down. There was a group of journalists in a motorboat covering the ship's flight. However, rough waters prevented the boat from getting near the bagged feline.

With that plan a failure, the crew let the cat out of the bag. Thankfully, it was much smoother sailing from there-at least regarding the cat's behavior. After the incident, Simon noted that Kiddo must have realized -he could have been in a worse place than an airship, and henceforth began to behave himself fairly well.-

Still, nobody really warmed up to the feline. Some crew members were so annoyed that first engineer Melvin Vaniman's first communication to the radio operator in Atlantic City was "Roy, come and get this goddamn cat!"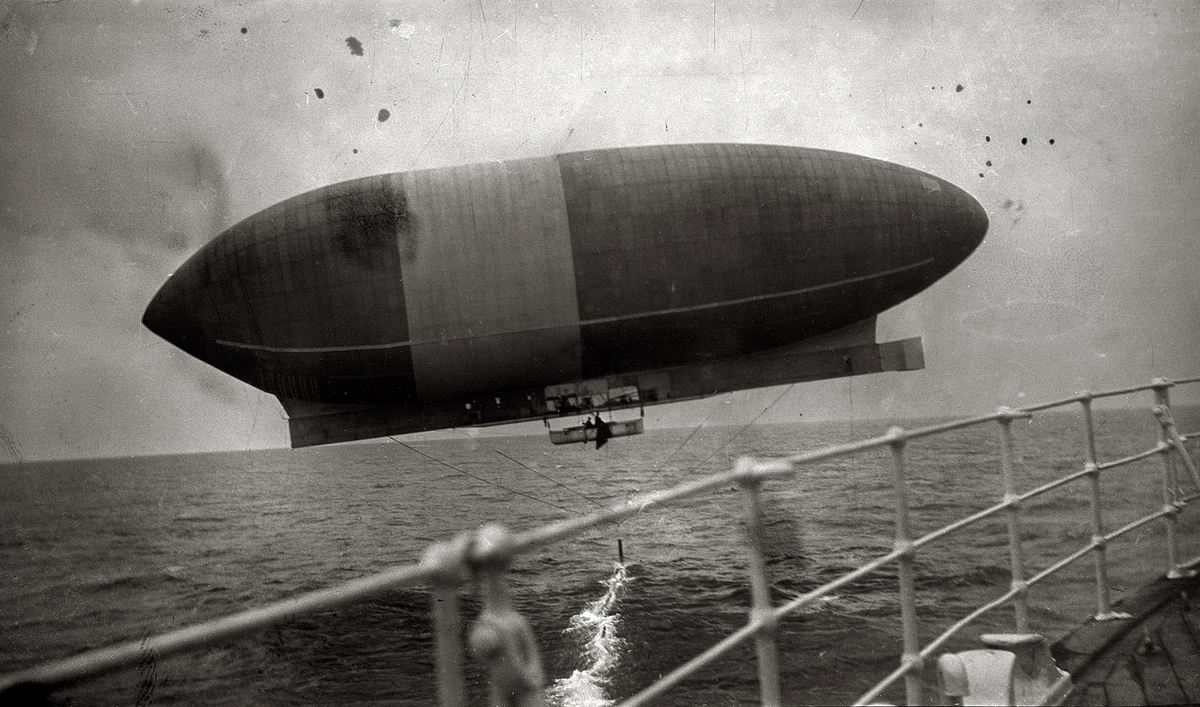 Airship America seen from the deck of the steamship Trent (October 1910).
Making History

This exclamation might very well have been the first air-to-ground radio transmission in history, rivaled only by Canadian pilot J.D.A. McCurdy who some sources suggest sent a transmission a few months prior.

Unfortunately, Kiddo didn't prove to be the lucky charm some had hoped; only a little more than a day into their flight, the weather took a bad turn and the engines, clogged with sand, began to fail. The crew all managed to pile into the lifeboat (Kiddo included) and they abandoned the America. They returned with the help of a mail boat and the America drifted off, never to be seen again.

While the airship didn't manage to cross the Atlantic (they didn't even get close), the America and its crew still managed to break records. They broke records for both time aloft and distance traveled by air. When they made it back to Atlantic City, they were like celebrities. Again, including Kiddo, who spent some time on display at Gimbel's in New York City where he lounged on gilded pillows before retiring to live with Wellman's daughter for the rest of his nine lives.

Not too shabby for a stray tabby, huh?
---
Sources:
http://mentalfloss.com/article/49780/kiddo-airborn...
https://www.airspacemag.com/history-of-flight/anim...
http://www.thegreatcat.org/cats-20th-century-histo...
https://en.wikipedia.org/wiki/Walter_Wellman