By Sarah Simonovich on Feb 19th 2018
Both football and airplanes are deeply ingrained in the American psyche. But I don't have to tell you this-look at the Super Bowl that took place just a couple of weeks ago. While the game between the Philadelphia Eagles and the New England Patriots drew the smallest crowd since 2009, there were still about 103.4 million people who tuned in. With the US population around 323 million, that's about one-third of the population.

Hundreds of millions of Americans also board domestic flights every year. You can say that both football and airplanes are a pretty big deal in the United States. But they have more in common than just arbitrary importance. As this article from Air & Space points out, football and aviation actually grew up together. So that makes them cousins (sort of).
The Heart of the Country
Both [American] football and airplanes have rich histories that further developed at the turn of the 20th century in the United States.
Football's Pioneer Period
Humans have been playing some version of traditional football throughout Europe since at least the Middle Ages. Archaic versions of football were often unorganized events played with an inflated pig's bladder. Games remained rather unorganized until the 19th century when intramural football games began popping up on college campuses. These mob-style games, however, were incredibly violent. Protests helped lead to the banning of games; Yale, for instance, completely banned all forms of football in 1860.
Within the decade, football started its return to college campuses—a position it would retain to present day.
Harvard vs. McGill (1874)
American football as we know it had its inception by the 1870s. This type of game embraced by most universities was rugby-style. Walter Camp, known as the "Father of American Football" helped transition from "association football" to "gridiron football" that we know today.
By the start of the 20th century, football was spreading beyond Ivy League schools like Yale and Harvard and traveled through New England and into the Midwest. The sport also became even more violent since blocking was legalized. Mass plays, such as the flying wedge, led to injuries and even death, calling for the creation of the National Collegiate Athletic Association (NCAA).
Aviation's Pioneer Period
Just as humans have been playing sports since antiquity, mankind has always had an interest in flight. Well before airplanes ever graced our skies, early inventors worked on designs for flying machines, some which flew but many of them didn't. The Montgolfier brothers kicked off balloonmania in the 18th century when they successfully managed manned flight in their hot air balloons. Sir George Cayley became the "father of the aeroplane" in 1846 when he designed the first heavier-than-air aircraft. However, his airplane didn't fly. The 19th century also saw the continued development of dirigibles and the first sustained powered, controlled flight of a Giffard dirigible.
At the turn of the 20th century, developments in the modern airplane were really taking off. Building upon a series of kite and glider designs from 1900 to 1902, the Wright brothers Wilbur and Orville managed to build a powered-design glider. After several more years of work, the brothers designed and built the Wright Flyer.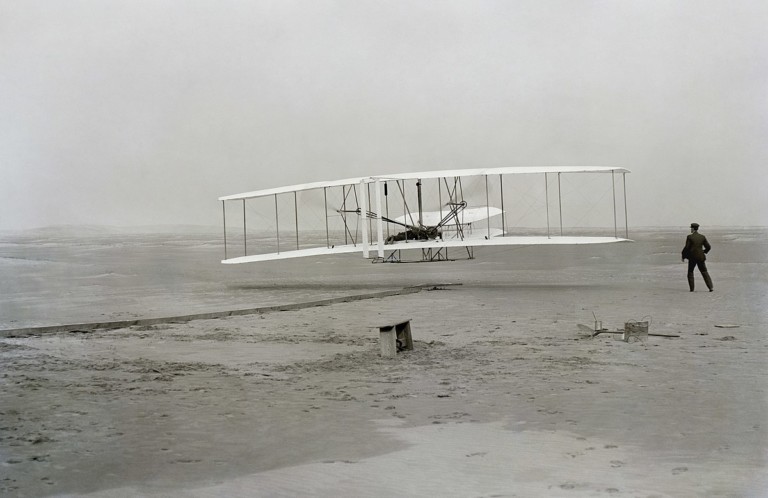 Wright Flyer
A Spectacular Spectacle

When football and aviation came into their own, they were both spectator sports. Once manned flight of heavier-than-air aircraft was successfully achieved and the principles of powered controlled flight had been established, the industry grew and developed rapidly. Aviation enthusiasts were soon experimenting with different aircraft configurations and building their own planes-people like Louis Blriot and Lilian Bland.

Less than a decade into the 20th century, pilots were racing their planes against other enthusiasts. The first heavier-than-air air race occurred on May 23, 1909, at the Port-Aviation airport south of Paris, France, although no one finished the race.

Newspaper sports pages featured both football and flying. Racing airplanes was much like racing cars-in fact, these sometimes occurred at the same venues, such as the Indianapolis Speedway.

The National Football League (NFL) was initially founded in 1920 as the American Professional Football Association (APFA) and changed its name in 1922. This league included 10 team from four states. With the formation of the NFL, cities formed competitive teams that recruited from the best college football programs. These teams often traveled from city to city like various stunt pilots and flying circuses. Barnstormers were stunt pilots who performed tricks to impress audiences with their skill and sturdy planes. Barnstorming was incredibly popular in the US during the 1920s; in fact, this is how Charles Lindbergh first began to fly.

As football and flying increased in popularity, these -heroes- became commodities: Harold Edward "Red" Grange, nicknamed "The Galloping Ghost", for example, was used to sell candy and soap while famed Charles Lindbergh's image could sell anything.

As aircraft developed, they became more aerodynamic-and so did the football. What was once a round ball took on a more tapered shape in the 1930s. and doesn't a football look awfully similar to an airship?
Aviation in Football

You might be thinking that this is all a bit of a stretch-do aviation and football really belong together? Yeah, they do. And they still go together, too.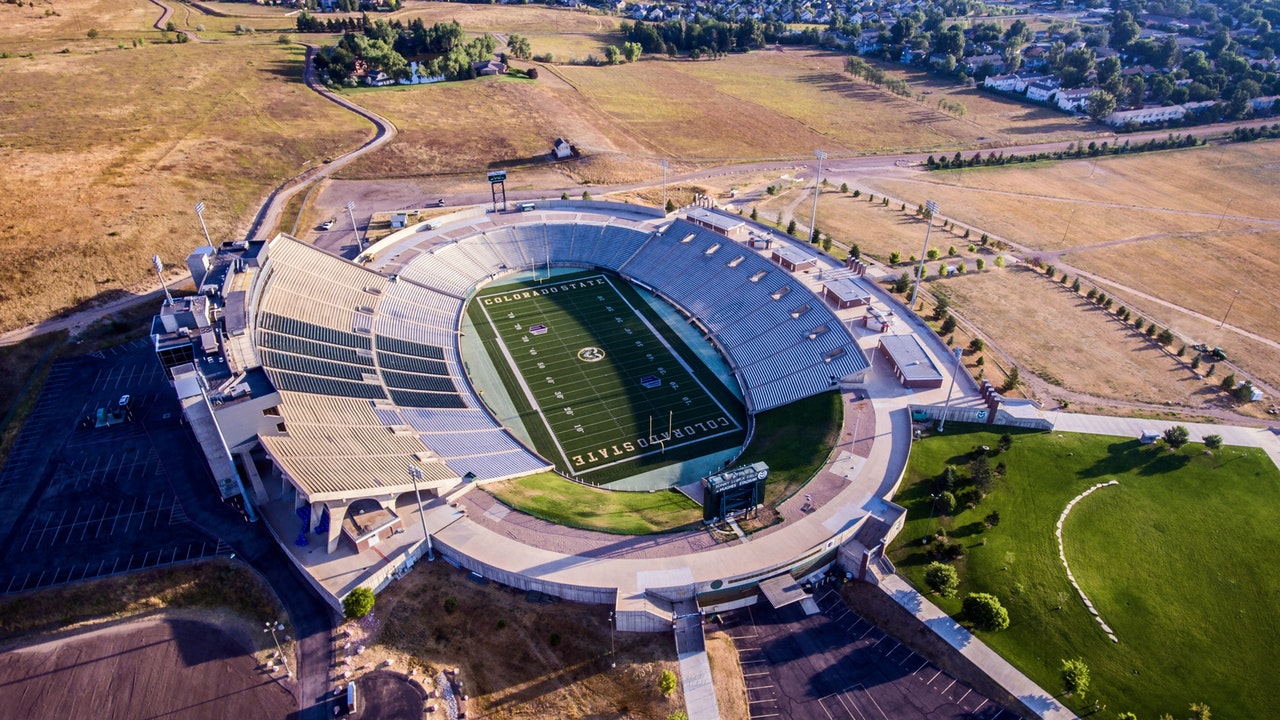 In 1916, Major Walter Glenn Kilner acted as commanding officer for the first airplane squadron in America to go on a -pleasure cruise-. The fleet, called the -football special- flew from New York to New Jersey to take spectators to the Yale-Princeton game. Airplanes have also been used to drop leaflets on stadium crowds and advertise with banners. The Goodyear blimp has even been a staple of college football games since it took to the skies above the Rose Bowl in 1955.

Nowadays, football teams are charted across the country using airplanes and it's far from uncommon for fans to do the same. Drones are also finding their way into the football universe for filming and even coaching.
---
Sources:

https://www.airspacemag.com/daily-planet/aerial-ga...

http://www.history.com/news/ask-history/who-invent...

https://en.wikipedia.org/wiki/History_of_American_...

White, James A., Jerome W. Howe, and C.S. Anderson. -Military Airmen.- The Wireless Age Volume 5. 1917. Google Books 7 February 2018.