By Sarah Simonovich on Jan 9th 2017
You might be familiar with Simba, Mufasa, the Cowardly Lion, and maybe even Aslan, but have you ever heard of Gilmore the Lion?
Seeing a lion on an airplane is not exactly what you would consider a -usual- occurrence-in April 2016, though, 33 rescued circus lions were flown from Columbia and Peru to a sanctuary in South Africa in a McDonnell Douglas MD-11 cargo aircraft.

But would you ever expect to fly with a lion in the cockpit?
Roscoe Turner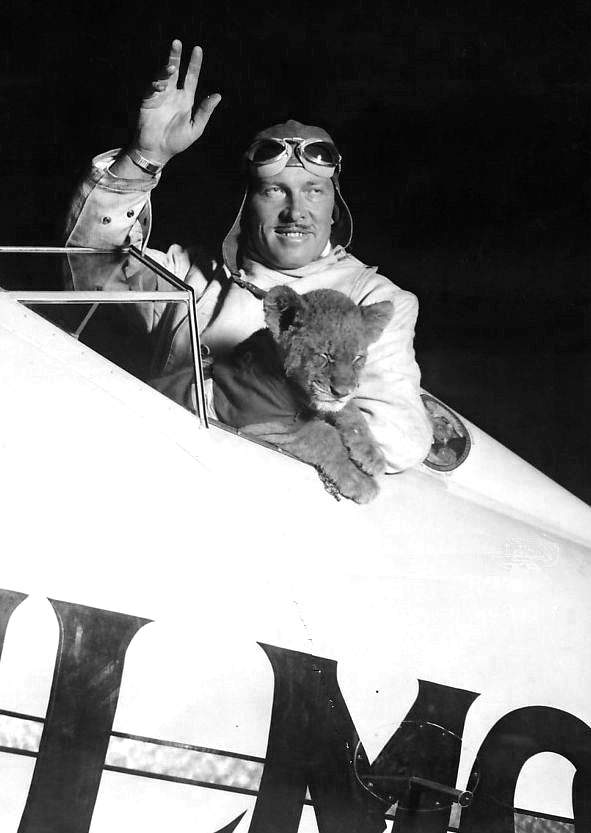 Roscoe Turner was a record-breaking aviator known for winning the Thompson Trophy Air Race 3 times, his flamboyant style, and-his pet lion.
Turner started air racing after the 1928 National Air Races in a Timm Aircoach sponsored by Shell Oil Company. In 1929 he tried to break 2 transcontinental airspeed records set by Frank Hawks in a Lockheed Vega of Nevada Airlines. Though he failed to break records, he certainly gained publicity for himself.

In 1930, Turner received sponsorship from the Gilmore Oil Company, one of the largest oil companies on the West Coast. The company was well-known for, among many things, its Red Lion brand gasoline.

Turner got Gilmore to purchase a Lockheed Air Express (NR3057) from General Tire & Rubber Company (flown by Henry Brown in the 1929 races) and painted the aircraft cream with red and gold trim, as well as a matching lion head logo to advertise Gilmore's Red Lion products. In his rather flamboyant style, Turner also acquired a male lion cub (born February 7, 1930) from the Louis Goebel Lion Farm in Agoura, California. The lion was named "Gilmore."
Gilmore the Lion
They started flying together in April 1930 and it didn't take long for news to spread about Turner and his flying lion copilot, and naturally this unusual duo drew crowds. Complaints made by animal rights groups prompted Turner to have a custom static line parachute and harness made for Gilmore the lion cub by the Irvin Air Chute Company.

As Turner tells it, Gilmore took some time to warm up to being a flying lion:
He was a pretty tired and nervous little cub when it was over. He was all right until we began to take off, but the moment the plane left the ground he made one terrified dive for Mrs. Turner's lap and stayed there. It was weeks before he stopped trying to scramble in someone's lap when we took off...

Together they set an East-West record and made a record flight between Canada and Mexico. They also entered the 1930 Derby Race from LA to Chicago-they finished 5th.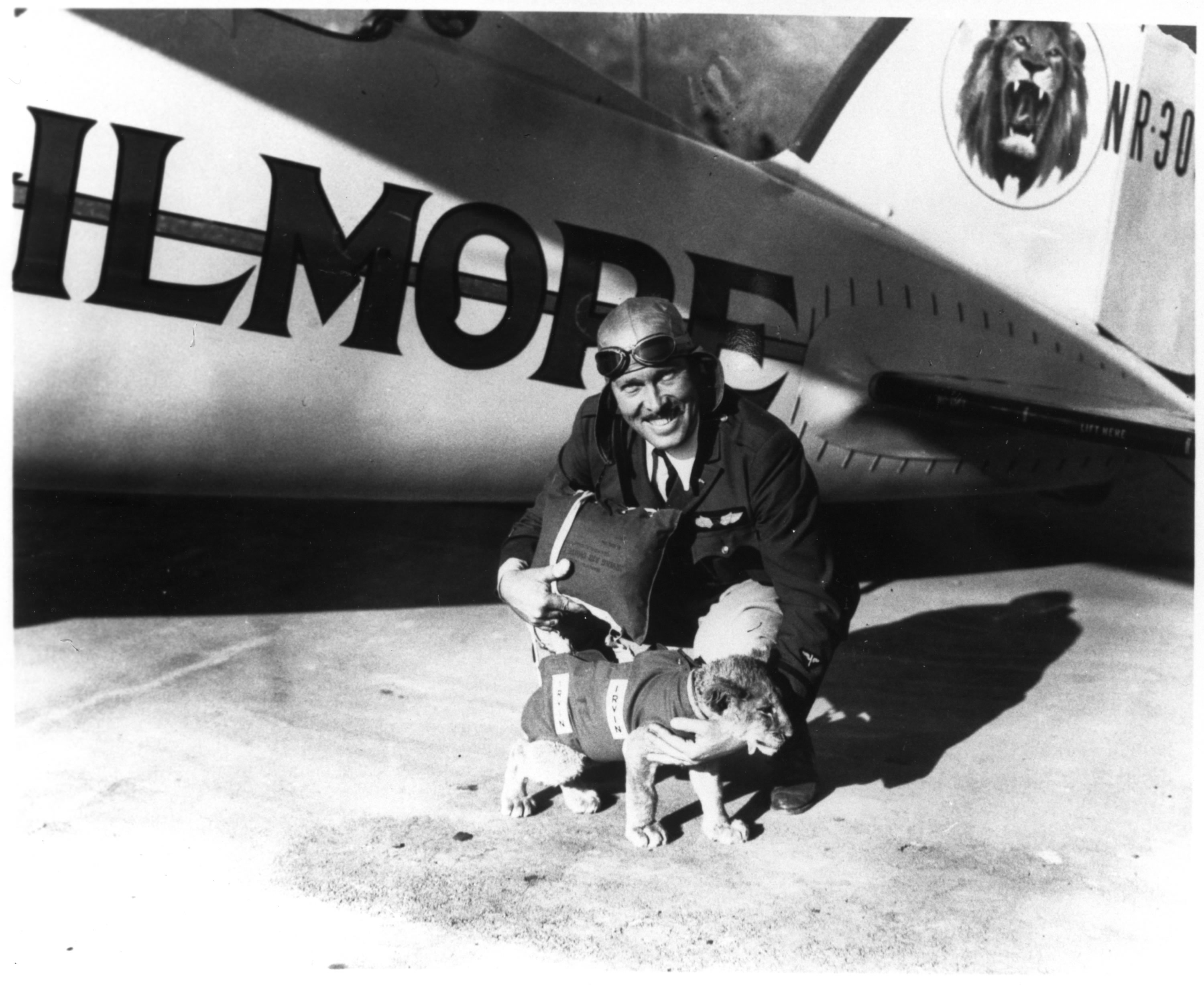 The 1930 Derby race ended up being the last race for Gilmore the Lion. After 9 months of flying and 25,000 logged miles in the air, he grew too big and became too large a payload. Though he retired from flying, Gilmore continued to accompany Turner in public to everything from air shows to movie premiers, restaurants, hotels, and even golf courses. He was also there where Turner broke the speed records flying from LA t New York and from Vancouver, Canada, to Auga Caliente, Mexico.

When Gilmore was a cub, Turner raised him in his home in Beverly Hills. After his retirement from flight, Gilmore spent the remainder of the 1930s in a cage displayed first at the Burbank Airport and then later at a Gilmore gas station in Beverly Hills (when he wasn't on tour with Turner). In 1940, he was returned to Goebel's farm to live out the rest of his days. He Died on December 17, 1952 (at the age of 22). Turner had his body sent to a taxidermist for mounting and took his to his home in Indianapolis.

After Roscoe Turner died in 1970 (at the age of 74), Gilmore's body was moved to the Turner Museum in Indianapolis. When the museum closed in 1972, he was moved to the National Air and Space Museum. Gilmore is not on public display due to the nature of the lion's fragile condition.
Gilmore at the National Air and Space Museum (Source: National Air and Space Museum, Smithsonian Institution)
---
Sources:
https://airandspace.si.edu/collection-objects/gilm...
https://en.wikipedia.org/wiki/Roscoe_Turner
https://airandspace.si.edu/stories/editorial/lion-...