By Kendra Kuhar on Nov 3rd 2017
The Antonov An-2-sometimes referred to as the Colt-has one of the longest production runs in history. Its ability to assist in many different ways contributed to its nearly 50-year (and still counting) run.

Designer Oleg Antonov grew up in Saratov, Russia and was inspired by the progress of aviation he witnessed firsthand. He set up a Society of Aviation Fans, collected information from magazines and newspapers on planes and spent time visiting a military airfield. As he became older, Antonov was also active in the Moscow Air Fleet Friends Society. He constructed a training glider named -Golub- (The Dove) and scholars quickly recognized his invention on an academic level.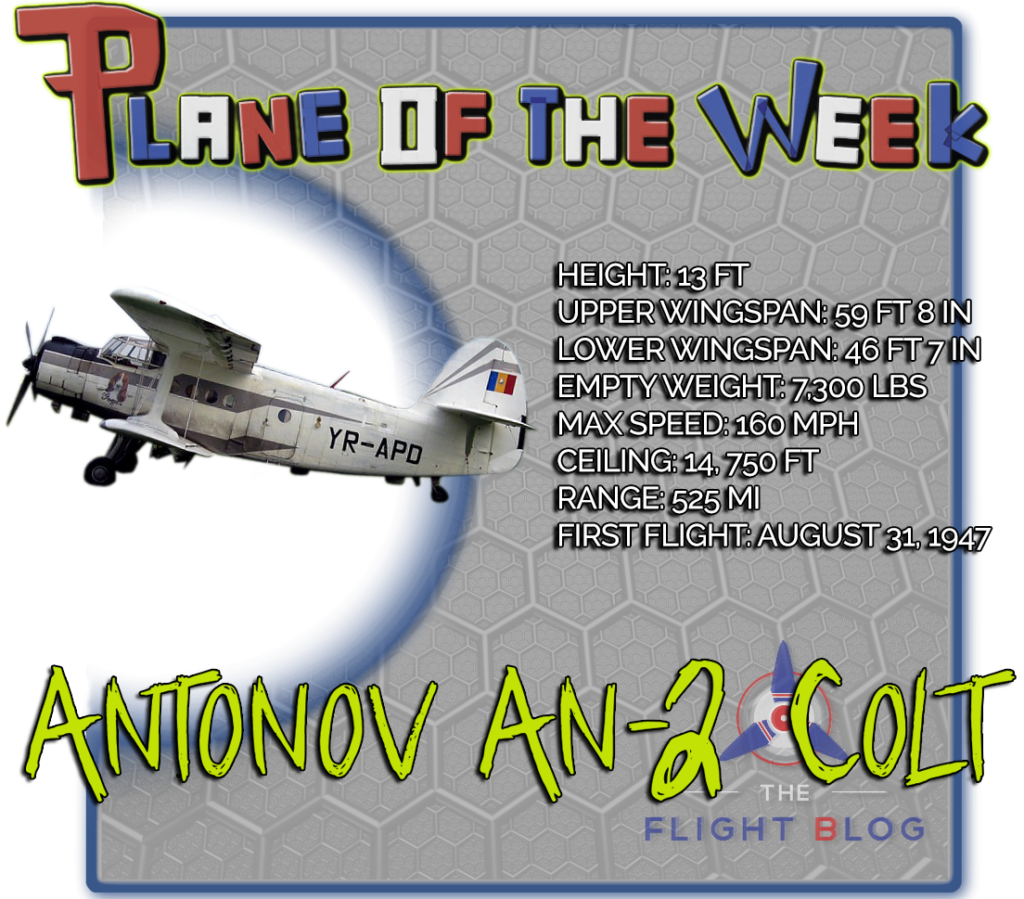 Antonov attended the Leningrad Polytechnic Institute and studied in the hydroplanes division. After graduating in 1930, Antonov worked for the Central Design Bureau for Gliders. The company named him Flight Director and his success persevered over time.

On May 31, 1946, Antonov was tasked with developing an agricultural plane, the SH-1. Today we know the plane as the AN-2. The plane was requested and designed to replace the Polikarpov Po-2, which was used for similar assignments. The planes became inexpensive to manufacture, so were a wartime favorite. They were the primary plane used by the Night Witches.
The Colt Can Handle Any Task
The following years produced several versions of the AN-2. The plane's versatility and reliability made it fit for multiple jobs like carrying passengers, delivering cargo, fertilizing crops, and being used in forestry.

The multi-purpose biplane has a simple, yet durable design. Its first flight was on August 31, 1947 where it took-off from Yeltsovka, Novosibilsk. The AN-2's initial role in the crop industry consisted of applying mineral fertilizers, sowing forage herbs for livestock, and providing nutrition to pastures. Its role expanded into helping people by transporting sick men and delivering doctors and nurses to areas of need.
Short Takeoff, Short Landing

A beneficial feature of the AN-2 is that it has extraordinarily short takeoff and landing capabilities. It's also well-liked because it can handle extreme weather and underdeveloped runways. It houses a 1000 horsepower 9-cylinder Shvetsov ASH-62 radial engine and can be flown under the pilot's full control at 30 mph. A 3-D tour of the plane also shows its ability to transport supplies.

An AN-2 named Polar I participated in a flight honoring Eielson and Wilkins' 1928 flight from Barrow, Alaska to Spitsbergen, Norway. The Museum of Flight sponsored the event in 1998 and upon its landing at the North Pole, owner Shane Lundgren donated the AN-2 to the museum.
---
Learn about the plane's distant, giant relative the AN-225 Mriya!
---
Sources:

http://www.antonov.com/about/oleg-antonov

http://www.antonov.com/aircraft/antonov-gliders-an...

http://www.museumofflight.org/aircraft/antonov-2-c...