By Kendra Kuhar on Mar 16th 2018
Albert S. "Scott" Crossfield was a Navy fighter pilot and flight instructor. Born on October 2, 1921, Crossfield attended the University of Washington to study aeronautical engineering. He eventually dropped out and instead graduated from civilian aviation school before obtaining his private pilot's license. He shifted back and forth between working at Boeing Aircraft Company and the Army Air Forces before deciding to join the Navy.

In the 1940s, supersonic aircraft research became a priority for a joint national committee built by Bell Aircraft-and Scott Crossfield wanted in. He jumped at the opportunity to fly newly designed x-planes and wrote to the National Advisory Committee for Aeronautics (now known as NASA) that he wanted to be the test pilot. By 1950, the team hired him in and sent him to Edwards Air Force Base in California.
A Seasoned Pilot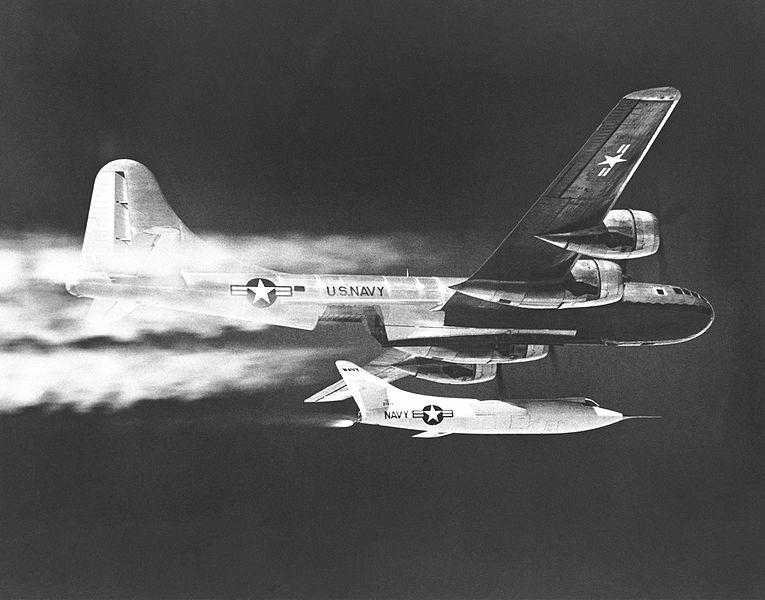 Crossfield flew a variety of aircraft throughout his time in the Navy and as a test pilot. He made aeronautical history on November 20, 1953, in a Douglas D-558-II Skyrocket research aircraft where he reached a speed of 1,320 mph, or 2 Mach. He also became the first person to travel twice the speed of sound in a Boeing P2B Superfortress when he climbed to 72,000 feet before diving to 62,000 feet.

Crossfield flew almost all of the experimental aircraft at Edwards Air Base between 1950 and 1955. He flew the X-1, X-4, X-5, and the XF-92A. By 1955, he accumulated the most rocket plane experience in the world.

The pilot joined North American Aviation where he continued testing aircraft and became a design consultant for the X-15 rocket-powered plane. Crossfield became the first to fly on an unpowered glide from 37,550 feet and completed the plane's first powered flight three months later in September 1959.

He worked for North American until 1967 where he spent his remaining years overseeing testing and quality assurance of the Paraglider, Apollo Command and Service Module, the Saturn V rocket's second state, and the Hound Dog missile. He later held executive positions with Eastern Airlines and Hawker Siddeley Aviation. Crossfield served as a technical consultant for civil aviation matters for the House of Representatives Committee on Science and Technology from 1977 to 1993.
Crossfield's Legacy and Last Flight
Crossfield earned several honors and awards throughout his career. He received the Collier Trophy in 1961 from the National Aeronautics Association, presented by John F. Kennedy at the White House in 1962. He was further inducted into the National Aviation Hall of Fame, the Aerospace Walk of Honor, and the International Space Hall of Fame.

Upon retirement in 1993, Crossfield was awarded the Distinguished Public Service Medal for his contributions to aeronautics and aviation over the course of 50 years by NASA.

In 2006, Crossfield's Cessna 210A tragically crashed in a Georgia mountain range while flying from Alabama to Virginia. He left behind a legacy in the aviation world and helped pave the way for the space shuttle. NASA considers Crossfield one of the greatest pilots, aeronautical engineers, aerodynamicist, and designers of all time.
---
Sources:
https://www.space.com/2326-test-pilot-scott-crossf...
https://www.nasa.gov/centers/armstrong/news/Biogra...