By Kayleigh DeMace on Jul 19th 2017
When we think of Marilyn Monroe, we think of a seductive superstar of the 1950-60s. We think of Joe DiMaggio. We think of John F. Kennedy. We think of- airplanes?

Born Norma Jeane Mortenson, this forever famous actress and model's career came to be from her time working in an airplane factory.
The Rise of a Star
In late 1944, Marilyn Monroe was working in a Radioplane factory to help with the war efforts during WWII.

While working, Monroe met a photographer from First Motion Picture Unit, which led to a successful pin-up career. From there, the rest is history. Her early years-pre-movie star days-had a great influence on her life.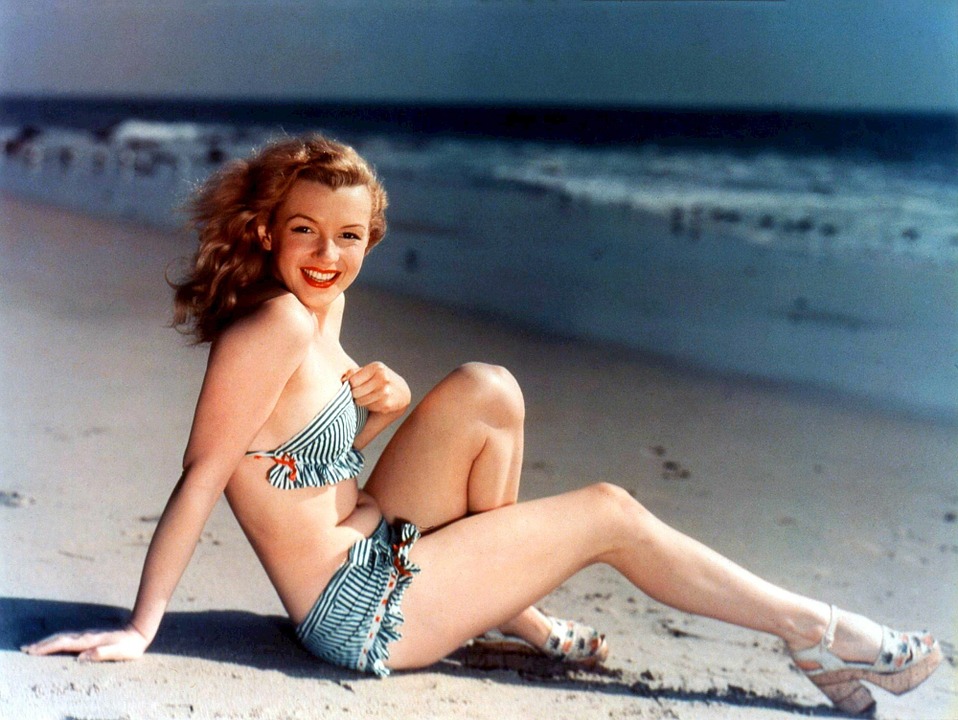 In the years leading up to this, Monroe lived in several foster homes and an orphanage. Still, her early years were happy. She was brought up by Albert and Ida Bolender, with her mother living with them for a while until work made that impossible. Still, she visited her mother on weekends and kept a healthy relationship and they soon lived together again.

However, in 1934, Monroe's mother had a mental breakdown and was diagnosed with paranoid schizophrenia. She rarely had contact with her daughter for the rest of her life from that point on.

Monroe eventually married her neighbor's son after her foster parents needed to move out of state-CA laws prohibited them from taking her with them. A marriage was the only way for her to avoid going back to an orphanage. She had just turned 16 years old.

Her husband, 21-year-old James Dougherty, enlisted with the Merchant Marines and was shipped out to the Pacific. Monroe moved in with her in-laws and began working at the Radioplane Company, which set off a chain of events in her incredible life.
Monroe at Radioplane Company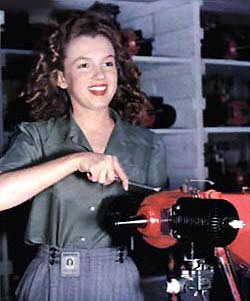 Primarily producing drones, Radioplane Company had a great influence during the second World War.

Monroe's main job at the factory was spraying planes with fire retardant. However, in this photo (right), she's shown assembling a drone. In fact, she's photographed here assembling the world's first mass-produced UAV, the Radioplane OQ-2.

Drones are thought of as a recent form of technology, but they have been used since before WWI.

US anti-aircraft gunners used these particular drones as gunnery targets to improve their targeting skills. Radioplane produced over 9,400 of these OQ-3 model UAVs.

This drone was a radio-controlled, small aircraft that was powered by a two-cylinder, two-cycle piston engine. It featured two contra-rotating propellers and was launched by a catapult. If it survived target practice, it was recovered by a parachute.
---
---
Later versions sold to the Army featured a landing gear to help with the landing. The Navy's did not feature this landing gear. These Radioplane OQ-2s measured nearly 9 feet in length with a wingspan of just over 12 feet. Each one weighed in at 104 pounds.
After the war, Radioplane Company was purchased by Northrop Corporation in 1952. Marlyn's name lived on many, many years past that.
---
Sources:

https://en.wikipedia.org/wiki/Marilyn_Monroe
https://en.wikipedia.org/wiki/Radioplane_OQ-2
https://en.wikipedia.org/wiki/Radioplane_Company
https://en.wikipedia.org/wiki/Radioplane_OQ-2
https://www.nytimes.com/2014/06/04/upshot/marilyn-monroes-world-war-ii-drone-program.html
http://www.dailymail.co.uk/news/article-2380152/Marilyn-Monroe-photos-young-Norma-Jean-working-WWII-factory.html