By Sarah Simonovich on Mar 1st 2017
From the Silver Screen to Blue Skies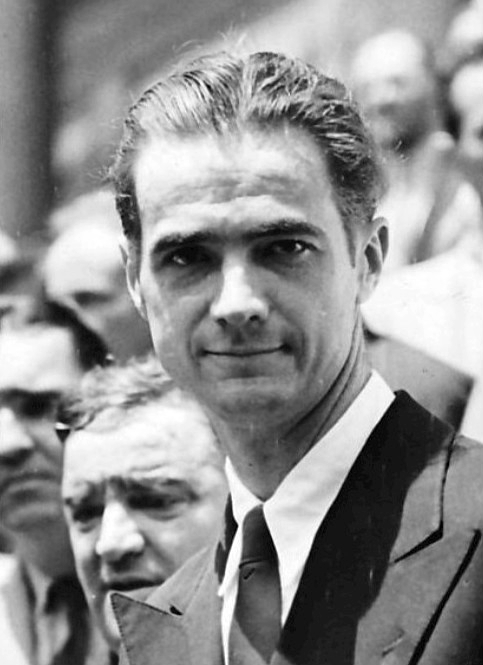 If you're compiling a list of some of the most influential figures in the aviation industry, Howard Hughes has to be on it--there's no question about that. And he'd likely make appearances on other lists, too, such as most financially successful individuals, and even controversial filmmakers (of the time).
For a man to grow into such notoriety, his beginnings are a little uncertain.
Howard Robert Hughes Jr. was born to Allene Stone Gano and Howard R. Hughes Sr. somewhere in Texas (either Humble or Houston) at some point in 1905. The exact date remains uncertain because different sources give conflicting information. Hughes himself has claimed that he was born on Christmas Eve-a 1941 affidavit birth certificate was signed by Annette Gano Lummis and Estelle Boughton Sharp state Hughes was born December 24, 1905. However, his certificate of baptism (recorded October 7, 1906) from St. John's Episcopal Church in Keokuk, Iowa, lists his birth date as September 24, 1905, without referencing where he was born.

Hughes was largely raised by his germophobic mother, as his father was frequently away on business (the elder Howard Hughes had invented the two-cone roller bit for drilling petroleum). Hughes spent a lot of time alone -in a world by himself,- growing up; he developed an obsessive personality and a preference for solitude that eventually laid the groundwork for his success and became one of his defining features.
From great mystery comes great responsibility to do something great.

Hughes showed an interest in (and had an aptitude for) science and technology from a young age. He was especially proficient in engineering; at 11 he built the first -wireless- radio transmitter in Houston, which could trade messages with ship captain in the Gulf of Mexico. Only a year later, 12-year-old Hughes had built his own motorized bicycle out of parts from his father's steam engine.

At 14, Hughes took his first flying lesson. He would later take math and aeronautical engineering courses at the California Institute of Technology.

Allene died in march 1922 and Howard Hughes Sr. died in 1924. After his parents' deaths, Hughes inherited a majority of his father's fortune and became a legally emancipated minor at 19 (at the time, the age of majority was 21). He also bought out his relatives, dropped out of college, got married to Ella Botts Rice on June 1, 1925, and made his way to Hollywood.
"I intend to be the greatest golfer in the world, the finest film producer in Hollywood, the greatest pilot in the world and the richest man in the world."
Entertainment Industry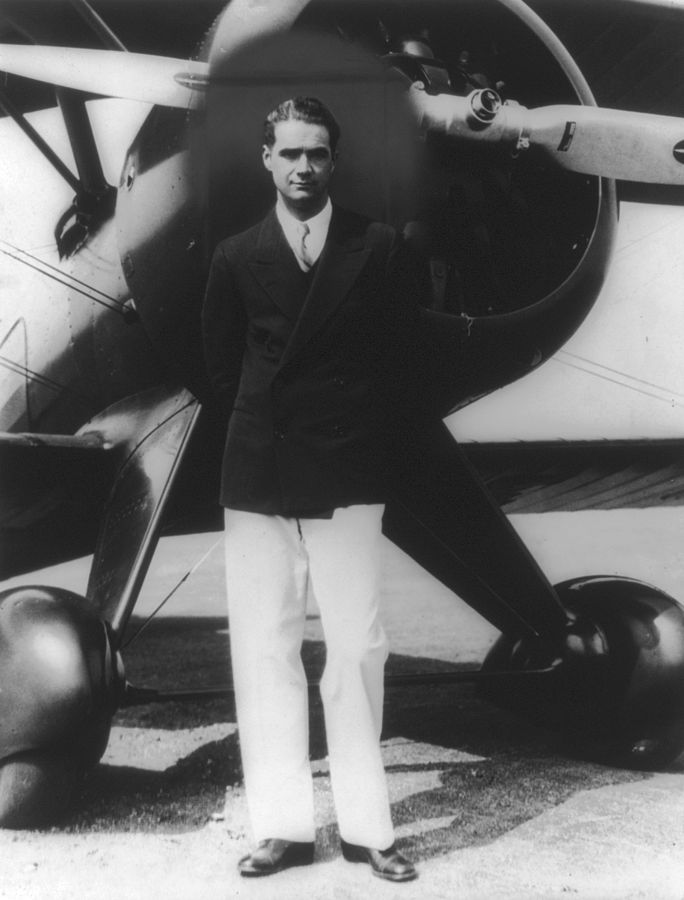 After dropping out of Rice University and moving to Los Angeles, California, Hughes switched gears a bit and took on the entertainment industry. His first film, Swell Hogan, which he produced in 1926, was a flop. However, he would go on to produce more than 2 dozen films that were critically-and commercially-successful. Two Arabian Knights (1927) won an Oscar for Best Comedy Direction; The Racket (1928), Hell's Angels (1930), and The Front Page (1931) were nominated for Academy Awards. Hughes was also a producer for Scarface (1932), which was a controversial film and faced issues with censoring regarding its violence.
During the 1940s and 1950s, The Hughes Tool Company obtained partial ownership of the RKO companies which included RKO Pictures, RKO Studios, RKO Theatres movie theater chain, and the RKO Radio Network. In 1948, Hughes took over RKO until 1955. After years of turmoil and decline, he sold it to General Tire and Rubber Company.

Hughes also became a successful real estate investor and amassed vast holdings of undeveloped land in Las Vegas and the surrounding desert (which went unused during his lifetime).
Aviation Industry
Hughes had always been passionate about aviation. He earned his private pilot's license in 1926 and purchased his first aircraft: a Waco 10 two-seater single-engine aircraft built for speed. By the time he was 28, Hughes had set a national speed record and won a race in a highly-modified Boeing 100A biplane.

In 1934, Hughes went into the airplane business and established the Hughes Aircraft Company in Glendale, California. The company's first aircraft was the H-1 Racer, built in 1935. On September 13, 1935, Hughes flew the plane through the Santa Monica mountains and broke the world speed record for a land plane in several passes. He was able to reach 352 mph before he crash-landed into a beet field after running out of fuel. The H-1 was the last aircraft built by a private individual to set the world speed record.
Hughes later made some changes to the Racer to make it more suitable for a transcontinental speed record attempt. He fitted the aircraft with new longer wings that gave the Racer a lower wing loading. On January 19, 1937, Hughes set a new transcontinental speed record by flying from LA to New York in 7 hours, 28 minutes. His average speed was 322 mph. Hughes never flew the H-1 again and it was retired with only 42 hours of flight time.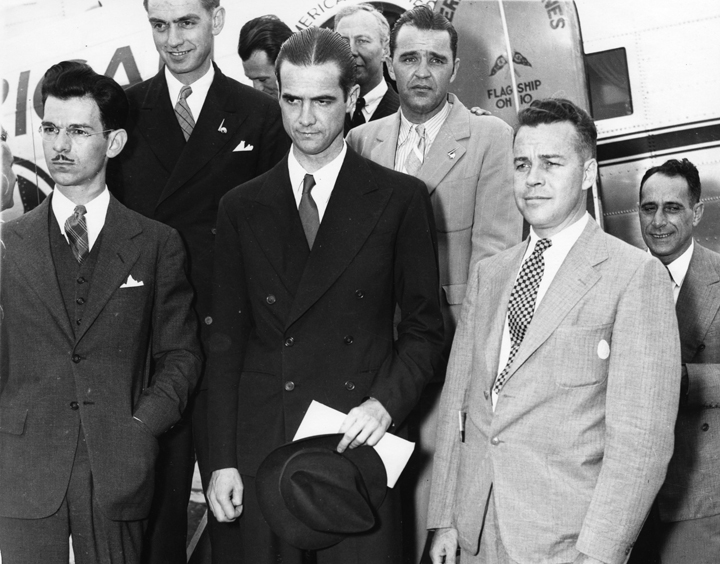 " Howard Hughes photograph, 1938" by uncgspecial is licensed CC BY-NC-ND 2.0
Accolades
Hughes broke several aviation records, including a global circumnavigation flight record. On July 14, 1938, he flew around the world in just 91 hours (3 days, 19 hours, 17 minutes).

Howard Hughes the aviator was the recipient of many awards, including the Harmon Trophy (1936 and 1938), the Collier Trophy and the Bibesco Cup of the Fdration Aronautique Internationale (1938), the Octave Chanute Award 91940), and a Congressional Gold Medal in 1939 in recognition of his achievements -in advancing the science of aviation and thus bringing great credit to his country throughout the world." Hughes never ventured to Washington to collect his medal, so it was eventually mailed to him.
Accidents
While Hughes' aviation career was full of achievements, it also proved to be a nearly fatal interest. Hughes survived 4 airplane accidents: one while filming Hell's Angels, the 1935 H-1 Racer crash, the near fatal 1943 crash in his Sikorsky S-43 at Lake Mead, and the 1946 near fatal crash of the XF-11.

You can read more about the Hughes XF-11 prototype, as well as the equally infamous Hughes H-4 Hercules -Spruce Goose,- as both have been featured in our Plane of the Week series.
Airlines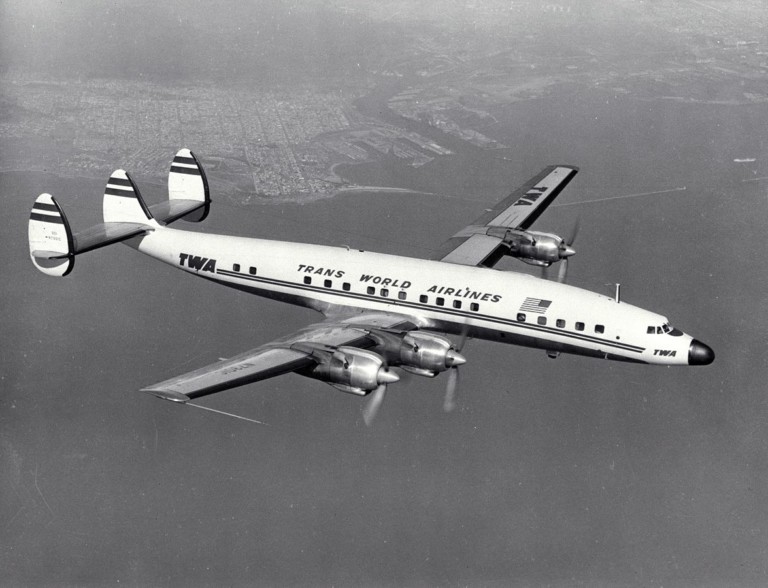 In 1939, Hughes quietly purchased a majority share of Trans World Airlines stock and took control of the airline. Now being an owner of the airline, Hughes was prohibited from building his own aircraft. But Hughes wanted an aircraft that would perform better than the airline's Boeing 307 Stratoliners. He contacted Lockheed, which resulted in the production of the Lockheed Constellation.

In 1956, Hughes ordered 63 Convair 880s for TWA. In 1960, he forced out of TWA, though he owned 78% of the company. In 1966, Hughes was forced to sell his TWA shares over federal concern that he owned both TWA and Hughes Aircraft. In 1970, Hughes purchased Air West and renamed it Hughes Airwest. In late 1980, Hughes Airwest was acquired by and merged into Republic Airlines. Republic eventually merged into Northwest Airlines which then merged into Delta.
A Man with Many Hats
Besides his work in the entertainment and aviation industries, Hughes also launched the Howard Hughes Medical Institute in Miami, Florida (currently located in Chevy Chase, Maryland) and was involved with CIA efforts to secretly recover Soviet submarine K-129 in 1972.
Later Life
Hughes became known for his eccentricities and reclusively. As time went on, his Obsessive-Compulsive Disorder seemed to worsen and he suffered from chronic pain from his plane crashes.

In the last decade of his life, Hughes lived in hotels in many cities throughout the world, including the Desert Inn hotel in Vegas. It was at the Desert Inn where the 9th-floor penthouse became his residence and the 8 th-floor became the center of the Hughes Empire (he bought the hotel in 1967).

Hughes died on April 5, 1976, while traveling on an aircraft en route from his penthouse in Mexico to the Methodist Hospital in Houston, Texas. Hughes was physically in bad shape at the time of his death and suffered from malnutrition. The autopsy revealed kidney failure was the cause of death. Howard Hughes is buried at the Glenwood Cemetery in Houston, Texas, next to his parents.
The 2004 Martin Scorsese film, The Aviator, is a biographical drama depicting the early life of Howard Hughes, with Leonardo DiCaprio playing Hughes.
---

Sources:

https://en.wikipedia.org/wiki/Howard_Hughes

http://www.chron.com/local/history/houston-legends...

http://www.airspacemag.com/history-of-flight/howar...