By Sarah Simonovich on Nov 28th 2016
45 years ago, on November 24, 1971, an unidentified man hijacked a Boeing 727 aircraft somewhere in the airspace between Portland, Oregon and Seattle, Washington. The perpetrator has never been located or identified, despite an extensive manhunt and FBI Investigation. To this day, he is known only by his alias Dan Cooper—or, more popularly, "D.B. Cooper."
Today this case remains the only unsolved air piracy in American aviation industry.
The Hijacking of Flight 305
Picture this: Mid-afternoon on Thanksgiving eve, Wednesday, November 24, 1971. We are at the Portland International Airport. A dark-haired man walks up to the flight counter of Northwest Airlines. He is carrying a black attaché case. He identifies himself as Dan Cooper and purchases a one-way ticket in Flight 305: a 30-minute trip to Seattle. He pays with cash.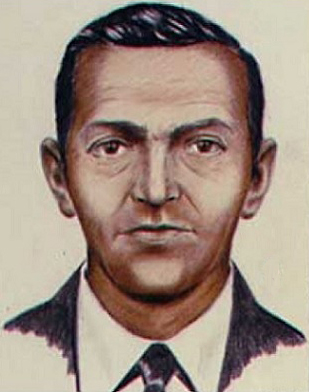 Cooper boards the aircraft (a Boeing 727-100 with FAA registration N467US) and takes a seat in the rear of the passenger car. He lights a cigarette and orders a bourbon and soda while waiting for take-off.
There isn't anything too spectacular about the man. Witnesses would later describe him in his mid-forties, tall but not too tall—somewhere between 5'10 and 6'0, maybe. He was dressed in a black lightweight raincoat, loafers, a dark suit, a neatly pressed white collared shirt, a narrow black tie, and a mother of pearl tie pin. He had sunglasses on his person and, most notably, that black attaché.
Flight 305 was only about 1/3 full when it took off on schedule at 2:50 pm (PST). Once the plane was in the air, Cooper passed a note to flight attendant Florence Schaffner, who was situated nearest him in a jump seat. Schaffer didn't look at the note at first, she simply dropped it unread and unopened into her purse. Notes (and phone numbers) from lonely businessmen were not altogether unexpected in her line of work. But this note, however, was completely unexpected.
"Miss, you'd better look at that note. I have a bomb."
The exact message within the note remains a mystery since Cooper took it back. But Schaffner reported that the note–handwritten with a felt tip pen– indicated that he had a bomb and wanted her to sit with him. When asked to see the bomb, Cooper opened the case just enough for her to catch a glimpse of eight red cylinders attached to wires coated with insulation, as well as a large cylindrical battery.
After he closed the briefcase he issued his demands: $200,000 in "negotiable American currency"; four parachutes; and a fuel tank standing by in Seattle. When Schaffner returned from the cockpit, Cooper was wearing dark sunglasses.
Pilot William Scott contacted Seattle-Tacoma air traffic control, who then alerted local and federal authorities. He informed the 36 other passengers that their arrival would be delayed due to a "minor mechanical difficulty."
Northwest orient president Donald Nyrop authorized the ransom payment and ordered all employees to cooperate with the hijacker. The aircraft circled Puget Sound for 2 hours to allow Seattle police and the FBI to assemble Cooper's demands and mobilize emergency personnel.
"He seemed rather nice. He was never cruel or nasty. He was thoughtful and calm all the time."
At 5:24, authorities informed Cooper all of his demands had been met.
Passengers Released
At 5:39 pm, the aircraft landed at the airport.
Cooper had Scott taxi the aircraft to an isolated yet brightly lit section of the tarmac and extinguish cabin lights. Al Lee (Northwest Orient's Seattle operations manager) handed off the money and parachutes to another flight attendant, Tina Mucklow. Once delivered, Cooper allowed the passengers, Schaffner, and senior flight attendant Alice Hancock to leave.
Cooper's flight plan: fly the plane on a southeast course toward Mexico City at the minimum airspeed possible without stalling the aircraft. He specified the landing gear was to remain deployed in the takeoff/landing position; the wing flaps to be lowered to 15 degrees; and the cabin to remain unpressurized. He also directed that the plane was to takeoff with the rear exit door open and its staircase extended, although Northwest objected that it was unsafe; Cooper countered their argument but conceded.
In the Air
The Boeing 727 took of around 7:40 pm with just Cooper, pilot Scott, flight attendant Mucklow, copilot William Rataczak, and flight engineer H.E. Anderson. Two F-106 fighter aircraft (from McChord Air Force base) followed behind the airliner out of Cooper's view. A Lockheed T-33 trainer also shadowed the 727 until it ran low on fuel.
Cooper had Mucklow and the rest of the crew remain in the cockpit with the door closed. Around 8 pm, a warning light flashed in the cockpit: the aft airstair apparatus had been activated. A change in air pressure indicated the aft door was indeed open, like Cooper wanted.
At approximately 10:15 pm, pilot and copilot landed the 727 at Reno airport (Cooper and the crew had agreed on Reno when it was determined that a second fueling was necessary before making it to Mexico). The aft airstair was still deployed. FBI agents, state troopers, sheriff's deputies, and Reno police surrounded the jet, but Cooper was no longer aboard.
A 45 Year Ongoing Mystery
Cooper made his jump at an altitude of around 1.9 miles wearing his suit jacket and with the money strapped to his body.
Law enforcement and a variety of investigators spent years heavily investigating Cooper's hijacking and disappearance—chasing theories and searching for both his identity and whereabouts. Despite the extensive manhunt and an investigation that would eventually surpass 4 decades, nothing substantial was uncovered. Many experts suggested that Cooper probably didn't even survive his mid-flight jump. Nevertheless, the case remained active until July 2016 when the FBI officially suspended their investigation. Despite this suspension, the FBI continues to solicit submission of physical evidence that might emerge related to the parachutes or ransom money.
Though the perpetrator identified himself as "Dan Cooper" when purchasing his airline ticket, he is popularly known as "D.B. Cooper" simply because of journalist James Long's error.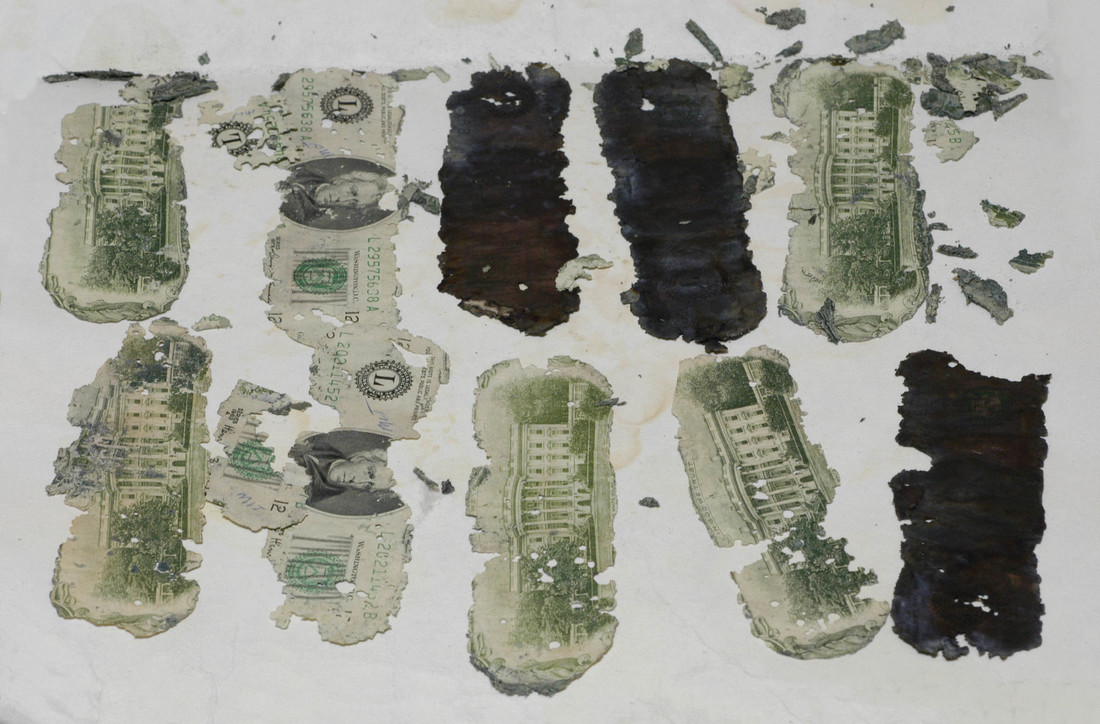 Some of the D. B. Cooper's stolen $20 bills found by a young boy in 1980
In 1978, a placard with instructions for lowering the aft atairs of a 727 was found by a hunter near a logging road about 13 miles east of Castle Rock, Washington (within the basic path of Flight 305).
In February 1980, a 8-year-old uncovered 3 packets of ransom cash near the Columbia River (9 miles downstream frmo Vancouver, Washington). FBI technicians confirmed that the money was a portion of the ransom: two packets of 100 twenty-dollar bills each, and a third packet of 90, arranged in the same order as when given to Cooper. To date, none of the remaining bills have turned up anywhere in the world.
The placard and money stacks are the only bona fide physical evidence found outside the aircraft.
---
Sources:
https://en.wikipedia.org/wiki/D._B._Cooper
http://www.sfgate.com/crime/article/D-B-Cooper-the...
http://www.cnn.com/2016/07/12/world/d-b-cooper-fbi...