By Kendra Kuhar on May 31st 2017
"VintageAirRally attempt the almost impossible with vintage biplanes, because there's no satisfaction in easy."
The Great Pyramid of Giza has seen it all. From decorated wall paintings to King Tutankhamun's coffin made of 22 pounds of solid gold-now that's a rich history. The only intact and original member of the Seven Wonders of the Ancient World has stood the tests of time for 4,500 years. While the monument has been around for centuries of history, there's one thing it hasn't seen in 80 years-an airplane.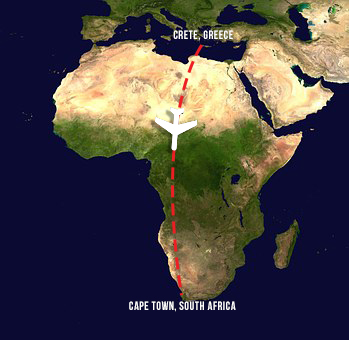 Crete2Cape
In November 2016, VintageAirRally was given permission to land planes near the pyramids for the first time in decades. The stop in Egypt was included in the air rally, Crete2Cape, where a group of vintage single-engine biplanes (made before December 31, 1939) traveled 8,000 miles in 35 days. As a tribute to aviation pioneers in the early 20th century, 40 men and women paired up for the ambitious trek and made history.

The route was a mirror image of the Imperial Airways -Africa Route.- A total of 11 countries were covered between takeoff in Crete, Greece, and landing in Cape Town, South Africa. 20 international teams represented 17 countries with pairs of family members and friends.

Pilot and entrepreneur Sam Rutherford spent two years planning the excursion and instilled several safety precautions for the flight. From the fleet's head to its tail, it measured 50 feet and the planes flew at just over 8,000 feet high.

Rutherford founded Prepare2go in 2003 and officially became Air Rally Director in 2014. As an office helicopter pilot for 8 years, Rutherford specializes in extraordinary logistics; in other words, the company works to help move people and equipment in and out of difficult places and countries. The company works with individuals, as well as with networks such as BBC, ABC, Discovery Channel and National Geographic.
Prepare2go's excursions prove vintage planes are still capable of taking the flights they took in the early 1920s and 30s.
Vinnie the Vulture, the rally organizing team mascot, is raising awareness for the African vulture. BirdLife International is working to save the vulture from extinction. Seed bombs were also dropped by planes for reforestation.
Great adventure does not come without obstacles.
The open cockpit of each biplane exposed pilots to severe weather and some planes traveled their maximum range during stretches of the flight. The political climate in the countries covered are not ideal either. All 40 pilots were detained in Ethiopia after violating airspace and were released after two days. British pilot Maurice Kirk was also reported missing twice but was accounted for in both cases.
Where2next
In 9 days, a combined vintage biplane and car rally will take place-the first of its kind. Four teams will compete against each other for a prize. The journey will begin and end south of Brussels, Belgium at Buzet aerodrome.

July 1, 2017 a Montreal Rally will take place and on September 9, 2017 another two-day vintage bi-plane and car rally will take place from Nitra to Piestany in Slovakia.

Intercontinental rallies are planned for March and November 2018. Pilots will begin the trip in Ushuaia, Argentina and end in Sarasota, Florida by mid-April. The rally mimics Aropostale routes, and will be crossing 19 countries in 42 days.
---
Sources:

https://www.theguardian.com/world/2016/nov/13/vin...

http://www.traveller24.com/Explore/pics-historic-...

http://www.vintageairrally.com/

http://www.fai.org/gac-slider-news/42658-event107...