By Kayleigh DeMace on Nov 30th 2016
Ruth Law Oliver, who was featured in our Women in Aviation History post earlier this month, passed away 46 years ago on December 1, 1970 in San Francisco. She was 83 years old.
A Brief Biography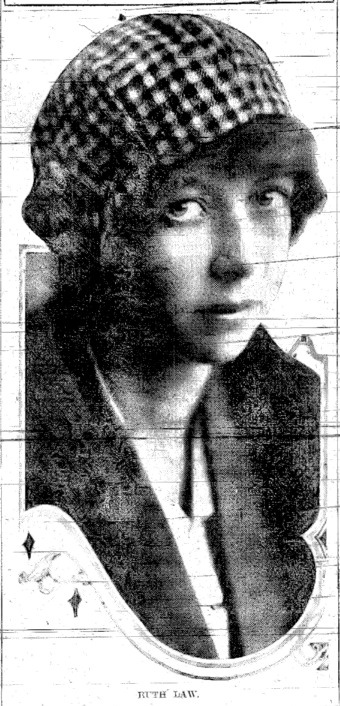 She was born on May 21, 1887 in Massachusetts. Ruth was a pioneering aviatrix in her day. She was the first women to perform the loop the loop in flight, as well as the first women to fly at night.

Turned away from Wright School (because Orville Wright thought women were unfit to fly), she purchased a Wright Model B from Orville and learned to fly from Pilot Phil Page while also taking lessons from a mechanic so that she could fix any issues with her plane herself. She earned her pilot's license on November 20, 1912, becoming the sixth American women to earn a pilot's license.

Ruth held, among other records, the air speed record for her flight from Chicago to New York, which she set in 1961. In 1919, she flew to the Philippine Islands to deliver the first official air mail.
U.S. Army Service

Oliver became the first women authorized to wear a military uniform in 1917. Still, she was not allowed to fly in combat.

Instead, she raised money for the Red Cross and Liberty Loan drives with exhibition flights. She also served as a recruiting officer for the U.S. Aviation Corps.

She became rather successful in exhibition flights, forming "Ruth Law's Flying Circus" after the war. They performed at both state and county fairs, flying through fireworks and racing airplanes against cars.
An End to Her Career

Throughout her career, she was managed by her husband, Charles Oliver. He handled all of her contracts and acted as her agent as well.

In 1922, Law retired from flight to focus on her life at home with her husband. Her husband had posted the announcement in the paper, and it was a surprise to Ruth when she read it in the morning paper. Still, after discussing the matter with her husband, she agreed and retired.
Celebrating Ruth Today


Ruth Law Oliver was recently the subject of a children's non-fiction picture book, written by Heather Lang and illustrated by Raúl Colón. "Fearless Flyer," published by Boyds Mills Press, would make a perfect gift for an aspiring aviatrix!
---
Sources:

http://www.earlyaviators.com/eoliver.htm
http://www.ctie.monash.edu.au/hargrave/law.html
https://army.togetherweserved.com/army/servlet/tws.webapp.WebApp?cmd=ShadowBoxProfile&type=Person&ID=310901