By Sarah Simonovich on Jun 23rd 2017
When the United States Army Air Forces wanted an operational jet fighter of their own, the War Department's wish was Kelly Johnson's command.
They sure wished upon this shooting star.
The Lockheed P-80 was the first jet fighter used operationally by the USAAF. The aircraft was designed and built by Lockheed in 1943. Once development began, it was delivered in record timing.
Development of this jet fighter was spurred by gathered intelligence on the Messerschmitt Me 262 "Swallow," a German fighter and bomber aircraft. Because the British and Germans were so ahead in jet development, Lockheed was tasked with developing a comparable aircraft in as short a time as possible.
Concept work for the P-80 began with a design being built around the blueprint dimensions of a British Halford H-1 B turbojet engine (later called the de Havilland Goblin–not to be confused with the McDonnell XF-85 Goblin aircraft).
Legendary aeronautical and systems engineer Clarence L. "Kelly" Johnson led his elite team of engineers and shop mechanics to work on this new plane prototype. They gathered in a rented circus tent at the edge of Lockheed's Burbank, California, facility. Starting June 26, 1943, the Skunk Works team produced the airframe in just 143 days. They delivered it to the Muroc Army Airfield on November 16 th.
Design and Development
The Lockheed P-80 had a conventional all-metal airframe with straight wings, a slim low wing, and tricycle landing gear. The straight wings were similar to its propeller-driven fighters predecessors. While most early jets used straight wings, this actually changed when Allies captured German research data that showed the speed advantages of swept wings. Most early jets also typically had two engines mounted in external nacelles. The P-80, however, had a single engine in the fuselage. It was the first operational jet fighter with such design. More powerful British jet engines made this fuselage mounting possible.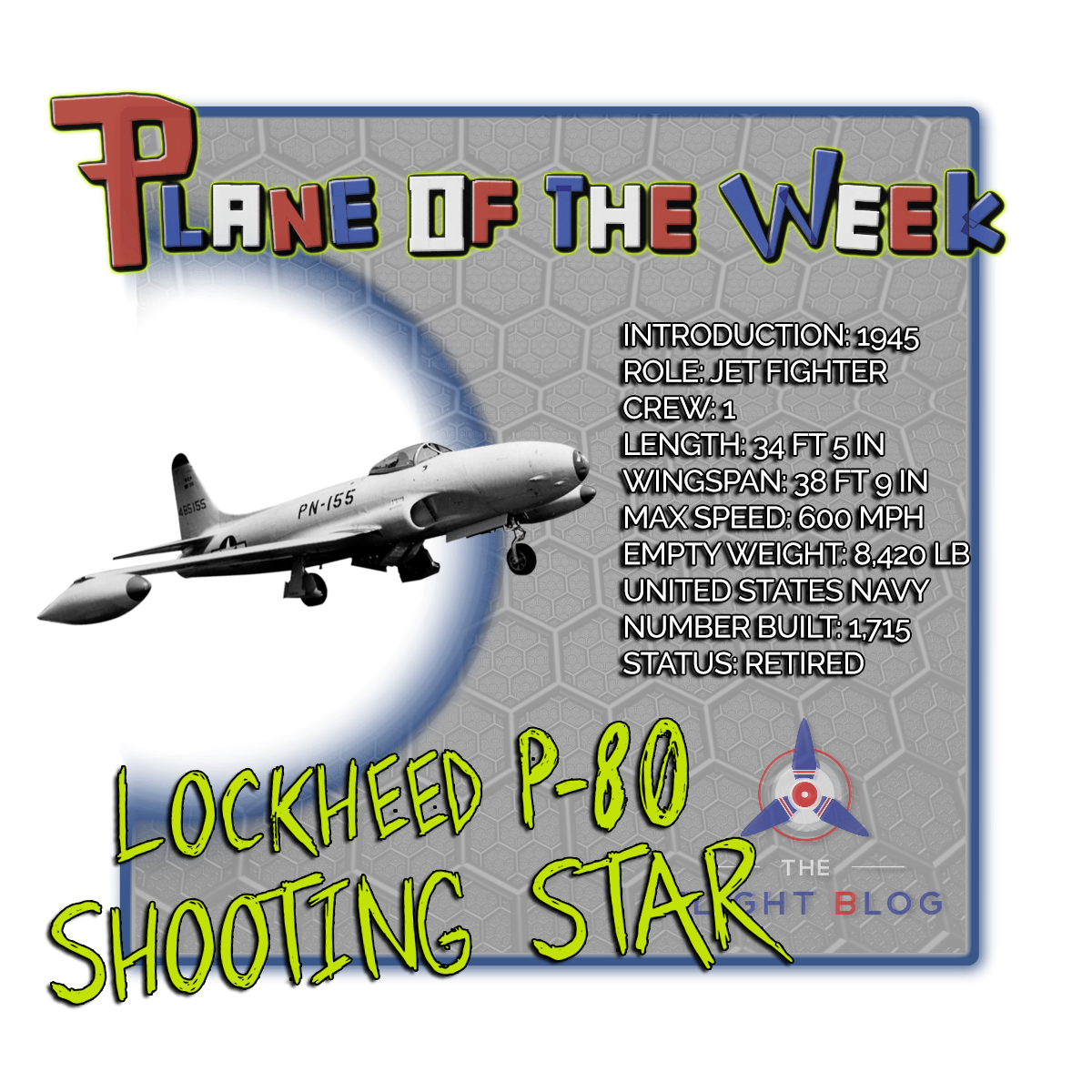 Few of those who worked on the project actually knew they were working to develop a jet aircraft—it was that secretive. The first prototype made its first flight on January 8, 1944. It was powered by a Halford H1 taken from the prototype de Havilland Vampire jet fighter. Lockheed test pilot Milo Burcham was at the controls.
The test flight was a success. Eventually, the XP-80 managed a top speed of 502 mph at 20,480 ft. It was the first USAAF aircraft to exceed 500 mph in level flight. The aircraft was dubbed "Shooting Star" for its unmatched speed.
The second prototype was designed for the larger General Electric I-40 engine and two aircraft were built. The first test flight was unimpressive and initial opinions weren't positive, although most design problems were addressed and corrected. The third prototype wasn't much of a success, either: Pilot Burcham was killed during a flight. Major Richard Bong, top-scoring World War II USAAF ace, was also killed on an acceptance flight of a production P-80 on August 6, 1945. Both fatal crashes were the result of main fuel pump failure.
Operational History
The Lockheed P-80 Shooting Star entered service in late 1944. Four went to Europe for operational testing. Starting in late 1945, two pre-production Shooting Star jet fighters saw limited service in Italy with the USAAF on recon. Delivery delays meant that no P-80 actually ever saw any WWII combat.
The United States Navy received several Shooting Stars around June 1945. One was modified and loaded aboard the aircraft carrier USS Franklin D. Roosevelt at Norfolk, Virginia, on October 31, 1946.
Some P-80 Shooting Stars saw their first combat during the Korean War. Some estimates say nearly 75% percent of enemy losses during the initial months of the Korean campaign were due to air attacks by these Stars. On November 8, 1950, Shooting Star pilot Lieutenant Russell J. Brown reported shooting down a MiG-15. This was the first American claim for a jet-versus-jet aerial kill.
---
Sources:
http://www.lockheedmartin.com/us/100years/stories/...
https://en.wikipedia.org/wiki/Lockheed_P-80_Shooti...