By Sarah Simonovich on May 26th 2016
Ferdinand Adolph Heinrich August Graf von Zeppelin
With a name like that, you just know he was meant to do great things.
We've talked about rigid airships before (remember the giant Airlander 10?) and how sometimes you need to look back when looking to the future.

On this day (May 26) in 1909, the rigid airship LZ-5 made its first flight at Lake Constance (or Bodensee in German). To celebrate this day in aviation, we wanted to find out more about the man behind the Zeppelin LZ-5 (and its 4 predecessors).
Count Zeppelin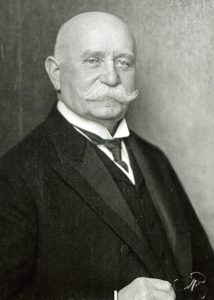 Count Ferdinand von Zeppelin was born July 8, 1838 on an island in the Bodensee (presumably with the expectation of greatness, given the greatness of his name and his mustache). In 1853 he attended the Polytechnic school at Stuttgart, and in 1855 he attended the military academy, eventually becoming an army officer in the army of Württemberg at the age of 20.

In 1863 he traveled to the United States as a military observer during the American Civil War; however, like any curious human, eventually he ditched the war zone to explore the American frontier.

Good thing, too-it was in St. Paul, Minnesota (far away from the battlefields) where he saw his first balloon, which ultimately led to his interest in lighter-than-air flight.

Thanks to German-born former Army balloonist John Steiner, Zeppelin experienced his first ascent in a (tethered) balloon.
Innovator, Driving Force, Pilot
A diary entry from March 25, 1874, describes Zeppelin's first ideas for large dirigibles (also known as airship):an aerodynamically flown ship constructed of a large rigidly-framed outer envelope containing individual gasbags. The success the 1887 airship La France prompted Zeppelin to write to the King of Württemberg regarding the military necessity for dirigibles.

It wasn't until Count Zeppelin reached the ripe age of 52 (and was forced to retire from the army in 1890) that he was able to spend his time and resource to devote himself to achieving lighter-than-air flight. His first ship, the Luftschiff Zeppelin 1 (LZ-1, accordingly) was built within 10 years. The LZ-1 was flown over Lake Constance on July 2, 1900, and remained in the air for about 20 minutes, but was damaged on landing. It was considered unsuccessful.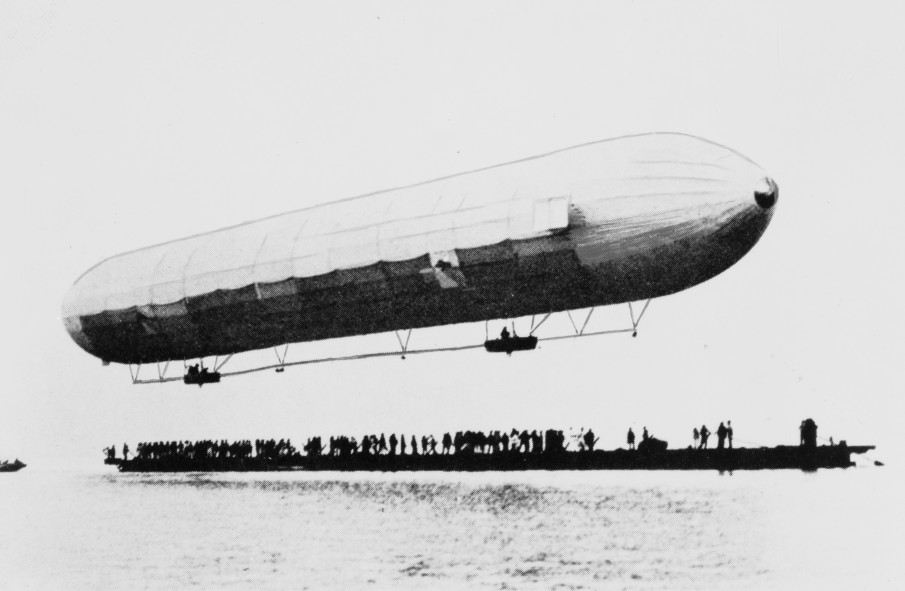 Zeppelin's push for his invention was directly influenced as a contribution to the military to bolster his country's military strength. Unfortunately for the Count, he failed to persuade the armed forces to adopt his technology (despite his enthusiasm).

The King of Württemberg was still supportive, though, which was beneficial in constructing his second airship (the LZ-2, of course), which was completed November 30, 1905. In May 1906, Zeppelin began working on a third airship (LZ-3), which was finished by the end of the year. Unlike LZ-2, the LZ-3 made 2 successful flights; its success changed the government's opinion of the significance of his work, and government support led to the fourth Zeppelin, LZ-4. The LZ-4 was destroyed by fire, but earlier flights excited public interest and collected funds were used to create the Luftschiffbau Zeppelin GmbH and the Zeppelin Foundation.

Although LZ-5 was built for the military, relationships continued to be uneasy between Zeppelin and military officials. Alfred Colsman, the business director of Luftschiffbau Zeppelin, decided to capitalize on the public's enthusiasm for airships by establishing a passenger-carrying business. Considering Zeppelin's strong enthusiasm for military use, it's hard to imagine that he was ok with this move.
Zeppelin After Zeppelin
The Count died March 8, 1917 (before the end of WWI), so he wasn't alive to witness either the shutdown of the Zeppelin project (courtesy of the Treaty of Versailles), or its resurgence of the Zeppelins under Hugo Eckener.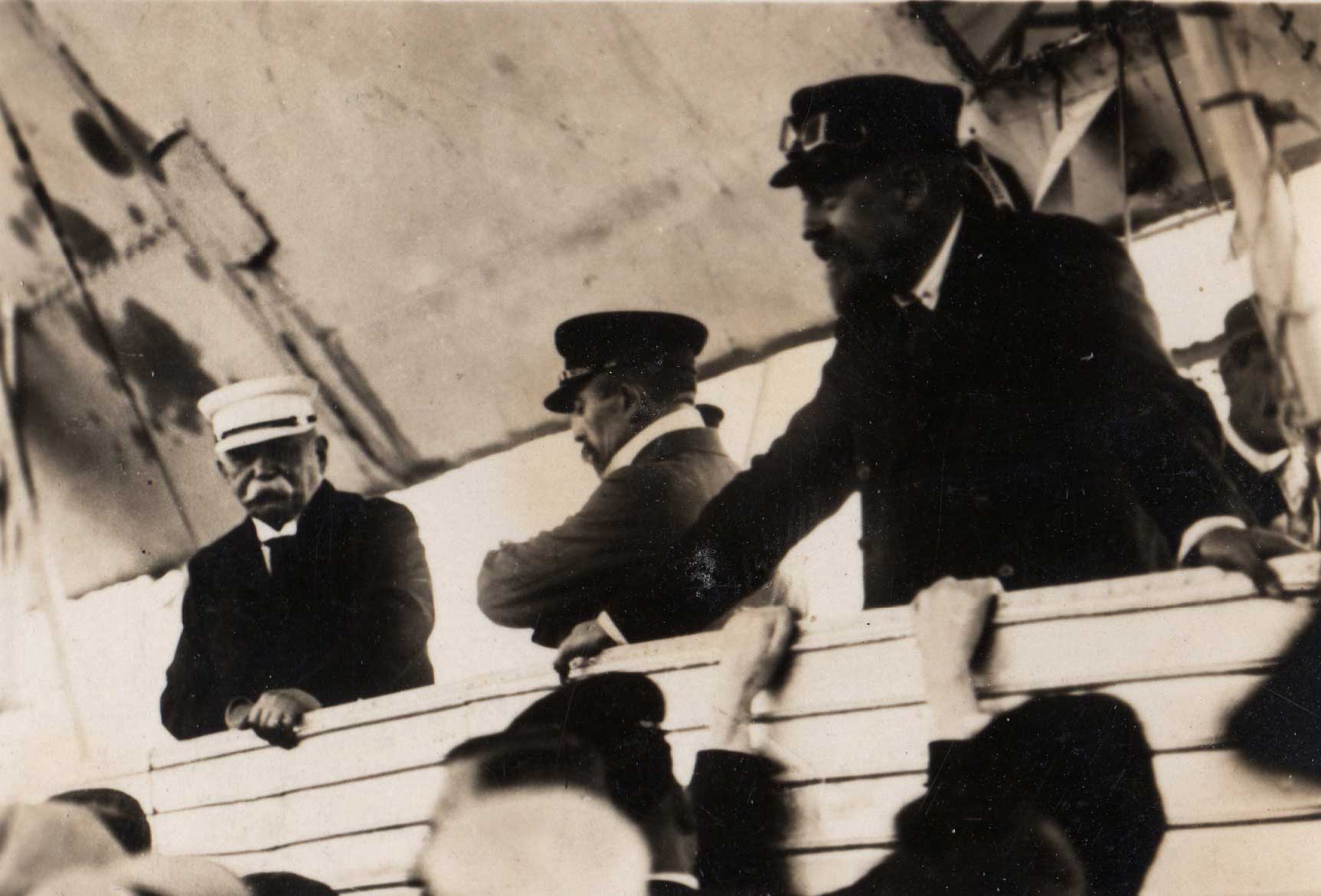 The unfinished WWII German aircraft carrier Graf Zeppelin, and rigid airships LZ 127 Graf Zeppelin and LZ 130 Graf Zeppelin II (twin to the Hindenburg) were named after Count Zeppelin.

The band Led Zeppelin took their name from Zeppelin's airships. On February 28, 1970, the band played in Copenhagen and are billed as "The Nobs." According to Led Zeppelin's website, this is because Eva von Zeppelin (a relative to Count Ferdinand Zeppelin) threatened to sue the band if they used their name in her home country:
Then we shall call ourselves The Nobs when we go to Copenhagen, the whole thing is absurd. The first time we played we invited her backstage to meet us, to see how we were nice young lads. We calmed her down but on leaving the studio, she saw our LP cover of an airship in flames and she exploded! I had to run and hide. She just blew her top. -Jimmy Page (Melody Maker).
It's pretty safe to say that although Count Ferdinand Adolph Heinrich August Graf von Zeppelin's vision for a militant rigid airship wasn't much appreciated during his lifetime, Count Zeppelin definitely influenced the world in more ways than one, especially as evidenced by the recent development of the Airlander 10. While rigid airships might technically be history, in a sense, they're certainly not history.
---
Sources:
http://www.thisdayinaviation.com/26-may-1909/
http://www.airships.net/count-ferdinand-von-zeppelin
https://en.wikipedia.org/wiki/Ferdinand_von_Zeppelin
http://www.ledzeppelin.com/show/february-28-1970