By Sarah Simonovich on Apr 4th 2016
The recent hype and mind-blowing preorders for Tesla's newly-announced Model 3 proves that the general public continues to be interested in alternative fuels and innovation that lessens environmental impact as well as reliance on "big oil". But while electric vehicles like Tesla trend on social media and are hailed as the solution for reducing carbon emissions, those in the automotive industry aren't the only ones with the environment in mind.

You might be wondering, what about aircraft? Surely there have got to be alternatives for planes, too, right?
Aviation Biofuel
Much of the aviation industry, including the International Air Transport Association (IATA) are just as committed to reducing aircraft emissions as, say, the United States Environmental Protection Agency.

Planes use fuel, it's a fact of life. Modern plane manufacturing tries to decrease overall aircraft weight and increase aerodynamics for better fuel consumption. But emissions reduction goals are not limited to structural changes alone: currently biofuels are a key element in achieving IATA's reduced emissions goals and are the only low-carbon fuels available for aviation in the short to mid term.

The upcoming Coast to Coast Biofuel Airplane Project is one attempt to highlight and promote clean energy, particularly for aviation. Ross McCurdy (a high school science teacher of chemistry and alternative energy) is planning the first transcontinental flight using aviation biofuel in a certified light aircraft at the end of the month.

McCurdy will be flying a single engine Cessna 182 owned by Paramus Flying Club. The Cessna's stock engine was replaced with a fuel-sipping SMA aviation diesel engine, which is approximately 30-40% more fuel efficient than the avgas burning engine.

The plan is for McCurdy to travel the 2500 nautical miles between Rhode Island and California using SkyNRG aviation biofuel made from a 50-50 blend of used cooking oil and regular Jet A (to meet ASTM D7566 standards). Because 50% of the fuel is made from used (renewable) Camelina plant seed oil, the emissions from the plane will be significantly lower, which will lessen the plane's carbon footprint and be better for the environment.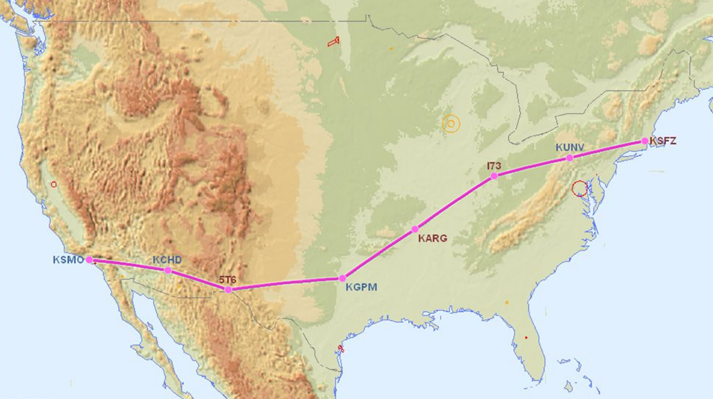 Intercontinental Flight Route (bioplane.us)

Traveling with his 12-year-old son, Pilot McCurdy will be departing from the North Central Airport near Providence, Rhode Island, around April 16; they will depart from Santa Monica, California, on Earth Day, April 22. During the journey, McCurdy has several planned stops and will be hosting events to promote clean energy, aviation, and science education.

Wondering if this biofuel plane will land near you? McCurdy has planned stops in the following locations: University Park Airport, Pennsylvania; Moraine Airport, Ohio; Walnut Ridge Regional Airport, Arkansas; Grand Parairie Municipal Airport, Texas; Dona Ana Country Airport, New Mexico; and Chandler Municipal Airport, Arizona. McCurdy has a special stash of his biofuel blend at each airport along the way to ensure success all the way to California and back.

For more information, check out the project's website.