By Kayleigh DeMace on Jan 11th 2017
Ahhh-a long flight to an exotic location and a mixed drink. This combination is bliss to some (guilty as charged).

I recently discovered a drink that plays to my love of flying: The Aviation Cocktail.
Now, read up and fill up.
The Aviation Cocktail

This mixed drink was invented in the early 1900s. It was created by the head bartender of the New York City hotel, the Hotel Wallick. The bartender who created the drink was originally from Germany: a man named Hugo Ensslin. The original recipe was first published by Ensslin in his collection Recipes for Mixed Drinks in 1916.
One feature of the characteristic drink is its color, which comes from crème de violette. This liqueur can be difficult to find and palate. In fact, many bartenders omitted the crème de violette from their drinks as the years went by.

With so many bartenders and recipe books omitting the crème de violette, the original drink near disappeared. Then, in 2004, Ensslin's book was rediscovered and the book was reissued in 2009. The original recipe for The Aviation Cocktail was added to the official cocktail list by the International Bartenders Association. This unforgettable drink is coming alive once more over 100 years later.
What's in a Name?

You might be wondering why it's called "The Aviation Cocktail." Some argue that it's because of the color of the drink: resembling the color of a tranquil sky.

While the crème de violette adds a slightly purple color to the drink, that color has a bluish hue, resembling the skies that we travel through aboard airplanes.

If you're feeling adventurous and want to try something new, order the drink while you're out. Or, you can make the drink for yourself in the comfort of your home! You only need to remember a few ingredients: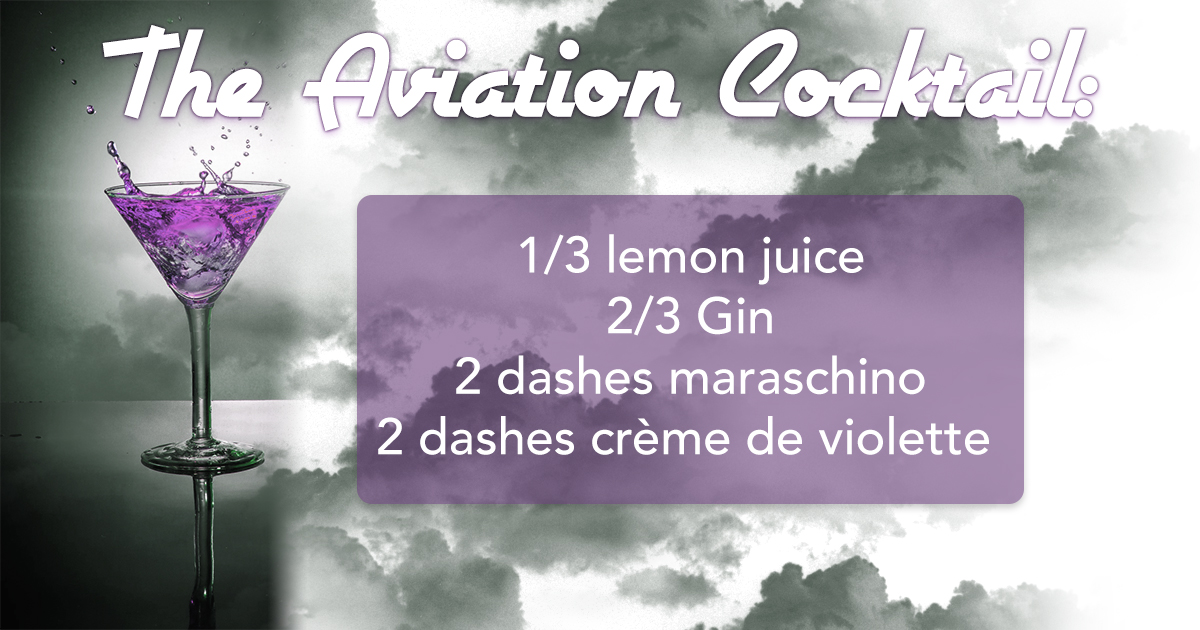 Shake together the ingredients in a cocktail shaker filled with ice, then strain it into a martini glass. Enjoy yourself a glass of history and celebrate the world of aviation!
Warning: Drinking and operating any machinery (including airplanes) is not advised by anyone here at TheFlightBlog.com. Drink carefully and responsibly!
---
Sources:

https://en.wikipedia.org/wiki/Aviation_(cocktail)
http://www.monkey47.com/prescriptions/article/gin-classics-6.html#
https://cold-glass.com/2010/06/23/aviation-cocktail/

Header image photo credit: Ryan Hyde, Flickr, CC https://www.flickr.com/photos/breatheindigital/46...