By Sarah Simonovich on Jan 22nd 2018
Have you forgotten about the "Real ID" Act of 2004? Well, the Federal Government hasn't and a hard deadline is coming this year.
In 2005, this controversial program passed into federal laws as a national set of standards ensuring all states' licenses verify identity documents the same way. On December 20, 2013, the Department of Homeland Security (DHS) announced a phased enforcement plan for the Act to implement it -in a measured, fair, and responsible way-. After years of delays and extensions, a deadline was set for January 22,2018. However, many states that are not yet compliant have been given an extension to October 10, 2018.

This deadline, an extension granted to 23 states currently operating under extensions, is for states to make their licenses REAL ID compliant. The Federal Government says that beyond this deadline, non-compliant state licenses will not be accepted for certain functions-including boarding a domestic flight.

What this may mean is that thousands of passengers may be turned away from airports right before the Thanksgiving holiday travel period.
What is REAL ID?
There is no one REAL ID. States continue to issue their own documents; however, these forms of identification must now adhere to federal standards relating to both the card design and application processing.

In order for a state-licensed identification card to meet TSA ID requirements, states must incorporate anti-counterfeit technology into the card, verify the applicant's identity, and conduct background checks for employees involved in issuing driver's licenses.

Starting October 1, 2020, every traveler will need to present a REAL ID-compliant license (or another acceptable form of identification) for domestic air travel.
Where does your state stand?
If you don't know whether your state-issued ID is REAL ID compliant, or when your state's extension expires, you can check your state on the Department of Homeland Security's website here. If you have additional questions regarding your specific state's licensing and policies, check with your state's driver's license agency. They can provide more information on obtaining a REAL ID-compliant license.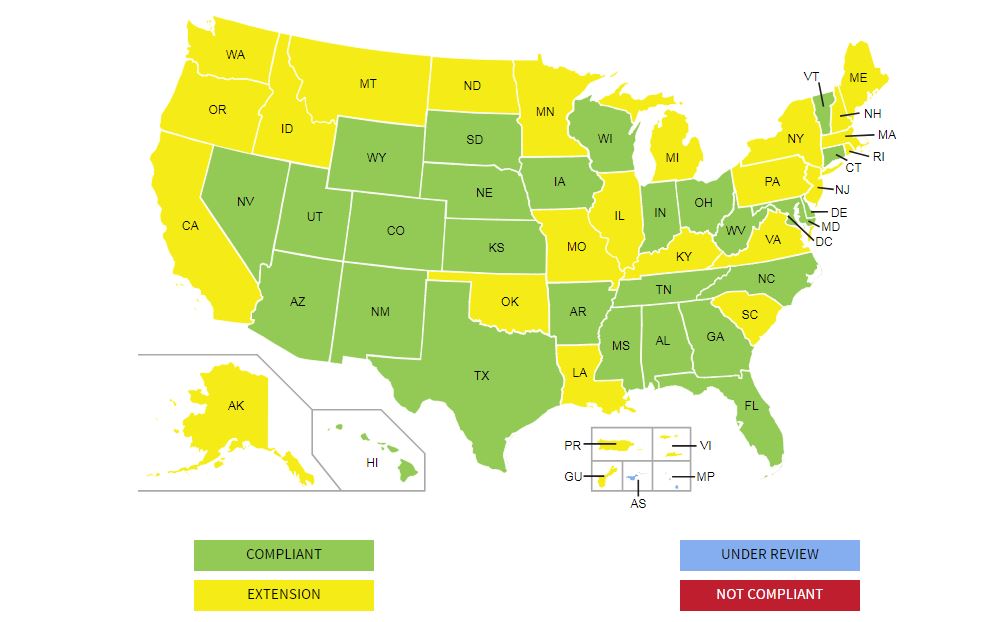 Current status of states and territories (dhs.gov)
Does everyone need a REAL ID to fly?

The short answer is no. Children under the age of 18 do not need an ID when traveling with a companion (who must show valid identification).

Once the extension deadline is up, and past October 1, 2020, all flyers of commercial air travel must present a REAL ID-compliant driver's license or ID or another acceptable form of identification. Additional valid identification includes the following:


U.S. passport


U.S. passport card


Foreign government-issued passport


Federally recognized, tribal-issued photo ID



You can find a full list of accepted IDs on the TSA's website here.
---
Sources:

http://fortune.com/2018/01/09/real-id-act-drivers-...

https://www.dhs.gov/real-id

https://www.tsa.gov/travel/security-screening/iden...