By Sarah Simonovich on May 12th 2017
The Martin B-26 Marauder was introduced in 1941 for use during the course of World War II. The twin-engined medium bomber served first in the Pacific Theater in 1942 and was later used in the Mediterranean Theater as well as Western Europe.

The United States Army Air Corps (USAAC) issued Circular Proposal 39-640 on March 11, 1939, for a quantity procurement of new and improved bombardment aircraft. The specifications called for a twin-engined medium bomber with a maximum speed of 350 mph, a range of 3,000 miles, and a bomb load of 2,000 lb. Eighty-six bids were invited, and seven were received. Of those seven, only four actually met the proposal criteria.

The Glenn L. Martin Company submitted a design produced by project engineer Peyton M. Magruder. Thier design was rated with the highest number of competitive points and was awarded a contract for 201 aircraft designated B-26. The North American Aviation, Inc., The Douglas Aircraft Company, and Steerman Aircraft also submitted designs.
The Widowmaker

It took about two years for the B-26 Marauder to go from an on-paper concept to an operational bomber. An additional 930 B-26s were ordered in September 1940 before the first flight even occurred.

The all-metal, shoulder-winged monoplane was fitted with a tricycle landing gear and had a streamlined, circular section fuselage to house the crew. The Marauder crew consisted of seven members. Besides the pilot, co-pilot, radio operator and navigator, there was also a bombardier armed with a machine gun, a gunner who manned a dorsal turret, and a gunner who manned a machine gun fitted to the tail. Two bomb bays were capable of carrying 5,800 pounds of bombs. However, due to a reduced range, additional fuel tanks were normally stored there instead of bombs.

Martin test pilot William K. Ken Ebel flew the prototype for the first time November 25, 1940. Deliveries to USAAC began in February 1941. In March 1941, the Army began Accelerated Service Testing.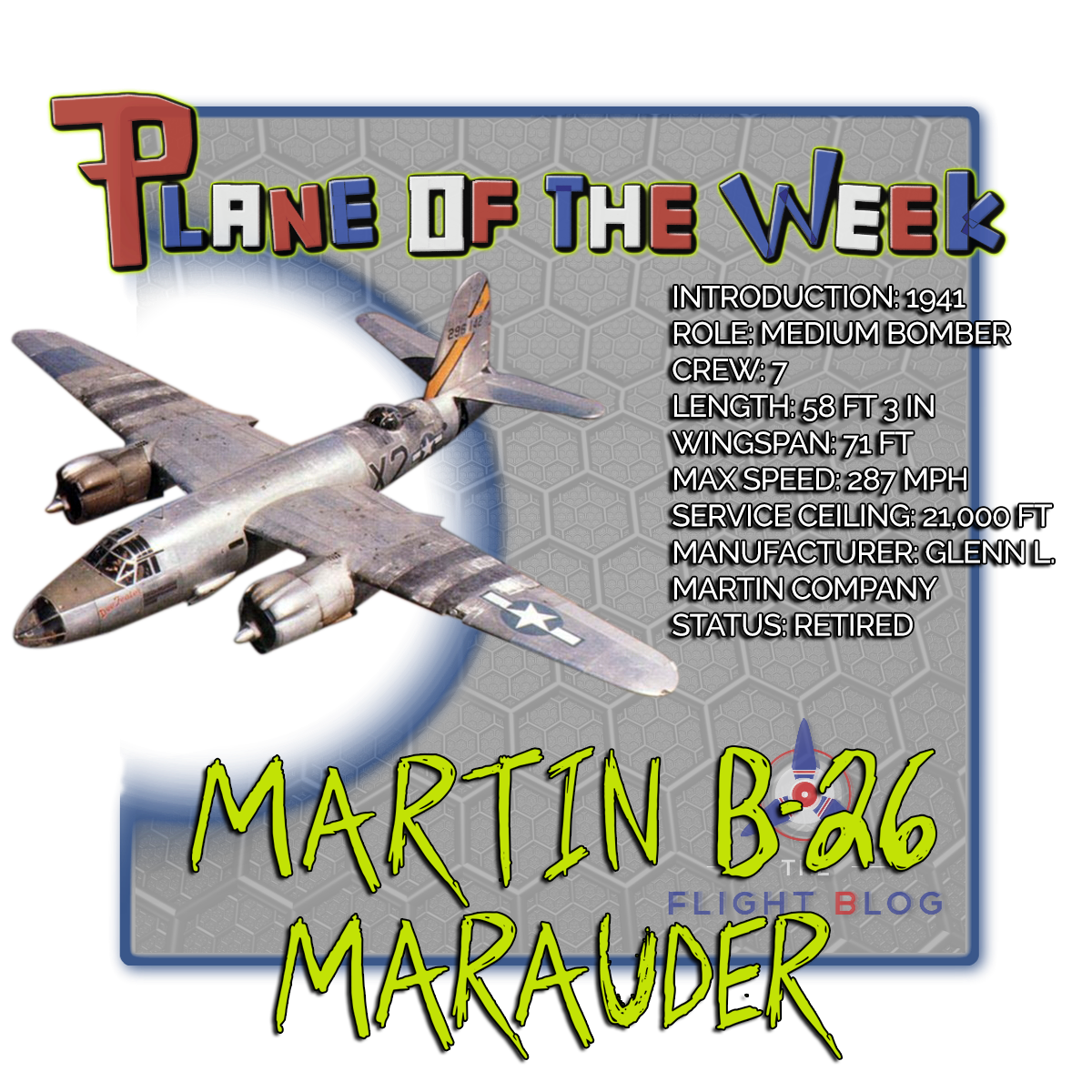 The aircraft suffered from several engine and propeller malfunctions. These issues led to a high accident rate in training. The early models were prone to issues during takeoffs and landings, tarnishing its reputation. The B-26 Marauder became known as widowmaker, Martin Murderer, Flying Coffin, B-Dash-Crash, Flying Prostitute, and One-a-Day-in-Tampa-Bay. This aircraft needed to be flown at exact airspeeds, especially on final runway approach and when one engine was out. The faster (150 mph) speed on runway approach was intimidating to many pilots who were accustomed to slower speeds. When they would slow down to speeds below manual specifications, the aircraft would stall and crash.

The B-26 Marauder became a much safer aircraft once crews were re-trained and after aerodynamic modifications were made. After some design changes, the aircraft rose to prominence as a very successful bomber. The B-26 was said to have had the lowest combat loss rate of any U.S. aircraft used during the course of WWII.
Flak Bait

One of the most significant aircraft during the course of WWII is a Martin B-26B-25-MA Marauder known as Flak-Bait. The bomber and its crew survived 207 operational missions--more than any other U.S. aircraft during the war. It was completed in April 1943 and assigned to the 449th Bombardment Squadron of the 322nd Bombardment Group. Lt. James J. Farrell named the aircraft Flak-Bait by combining the German flak (anti-aircraft artillery) with his brother's nickname for the family dog, Flea bait. Between August 1943 and the end of the war, it accumulated 725 hours of combat time against Nazi Germany.

In 1949, the then-newly-created U.S. Air Force transferred the Flak-Bait to the Smithsonian in 1949. In 1960, it joined the collection. The aircraft's forward fuselage went on display in Gallery 205-World War II Aviation when the museum opened in 1976. Very few Martin B-26 Marauders have survived today. Flak-Bait's original condition, history, and rarity make it something truly special.
---
Sources:

https://en.wikipedia.org/wiki/Martin_B-26_Marauder

https://airandspace.si.edu/collection-objects/martin-b-26b-25-ma-marauder-flak-bait

https://airandspace.si.edu/stories/editorial/where-flak-bait

https://books.google.com/books?id=4fAYRk_lGYwC&pg=PA38&lpg=PA38&dq=Circular+Proposal+39-640&source=bl&ots=ky3s_TzOVn&sig=3F7iszFGExSH9IKGC5l_naTIa0I&hl=en&sa=X&ved=0ahUKEwjGzPv-iOjTAhWG6oMKHe3pAA44ChDoAQglMAE#v=onepage&q=Circular%20Proposal%2039-640&f=false