By Sarah Simonovich on Oct 6th 2017
It may be slow, it may be simple, and it may be ugly, but this little piggy is tough as nails.

If this warthog could talk, it might say -no worries.- Because even though the A-10 Thunderbolt II is old and ugly, it is most definitely still effective. But the question the military keeps asking is, for how long?
Development
The Fairchild Republic A-10 Thunderbolt II is a single-seat, twin turbofan engine, straight-wing jet aircraft straight out of the Cold War era. This aircraft, nicknamed -Warthog- for its ugliness, was designed for close air support (CAS) of friendly ground troops, attacking armored vehicles and tanks, and providing quick-action support against enemy ground forces. It has been in production since 1976.

The A-10 was designed to improve upon the performance of the A-1 Skyraider, an aircraft that was slow, vulnerable, and had poor firepower. America's lack of aircraft capable of modern conventional attack spurred the call for a specialized attack aircraft.

On 8 September 1966, General McConnell ordered the design for a specialized CAS aircraft. On February 10, 1976, Deputy Secretary of Defense Clements authorized full-rate production. 715 aircraft were delivered by 1984.

The 355th Tactical Training Wing, based at Davis-Monthan Air Force Base, Arizona, received the A-10 Thunderbolt II in March 1976. Two years later, the 354th Tactical Fighter Wing at Myrtle Beach Air Force Base, South Carolina, was the first unit to achieve full combat-readiness.
Operation
Not everyone in the United States Air Force was welcoming to the A-10 Thunderbolt II. Fighter pilots typically favor speed and appearance, and the Warthog had neither of those characteristics.

In 1987, many A-10s were shifted to the forward air control (FAC) role. These were re-designated OA-10.

A-10s of the 23rd TFW were deployed to Bridgetown, Barbados during Operation Urgent Fury. These aircraft provided air cover for the U.S. Marine Corps landings on the island of Carriacou in late October 1983. The A-10s did not fire any weapons because there was no resistance.

The Air Force first used the A-10 Thunderbolt II in combat during the Gulf War in 1991. During this conflict, more than 900 Iraqi tanks, 2,000 other military vehicles, and 1,200 artillery pieces were destroyed.

A-10s also participated in Operation Anaconda (2002), Operation Iraqi Freedom (2003), Operation Odyssey Dawn (2011), Operation Tidal Wave II (2015), and others.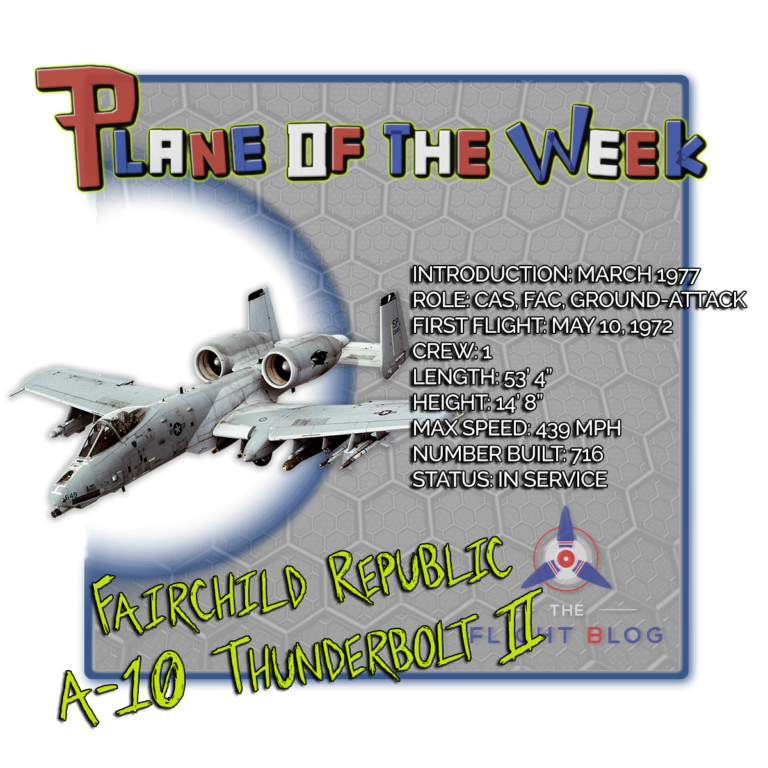 The Future
The future of the Fairchild Republic A-10 Thunderbolt II is still up for debate. In 2007, the USAF expected the A-10 to remain in service until 2028, or possibly even later. A strong possibility for a replacement would be the Martin F-35 Lightning II. Some critics, however, say replacing the A-10 with the F-35 would be -a giant leap backwards.-

While the Warthog is old and slow, it's apparent that it's not ready to die just yet. It's like a zombie in that way. This aircraft continues to be used in recent years, including in Iraq and Syria to provide air cover to troops fighting ISIS.

"I have A-10s and I will use them because they are a fantastic airplane," said General Herbert "Hawk" Carlisle, former chief of the Air Force's Air Combat Command, in 2015. The decision to mothball the A-10 or to keep on supporting it isn't a simple decision. But it's likely we'll find out the Air Force's decision sooner or later-likely before 2028.
---
Sources:
https://www.wired.com/2014/12/a10-warthog-isis/
http://www.popularmechanics.com/military/a18236/why-the-a-10-warthog-is-such-a-badass-plane/
http://www.popularmechanics.com/military/a13075/the-fate-of-the-a-10-warthog-which-side-are-you-on-16771409/
https://en.wikipedia.org/wiki/Fairchild_Republic_A-10_Thunderbolt_II