By Kayleigh DeMace on May 10th 2017
Amy Johnson was the first female pilot to fly solo from England to Australia, making her famous among the aviation community and around the world overnight.
The Life of Amy Johnson

Born on July 1, 1903, Amy Johnson was always a woman with a strong sense of independence. She was the oldest of four daughters within a family of fish merchants from Hull, Yorkshire, England.

Johnson attended what is now known as the University of Sheffield, which was a predominantly male school. She graduated with a Bachelor of Arts in economics.

Working as a secretary after graduation, she began to take up an interest in flying. She took flying lessons from 1928-29 at the London Aeroplane Club where her passion for aviation grew, as did her determination to prove that women could equally succeed-if not surpass-men within the field.

Today, the University of Sheffield named their Automatic Control and System's Engineering building the -Amy Johnson Building.- Also named after her are -The Amy Johnson Primary School- in England and -The Hawthornes @ Amy Johnson- in her hometown, which is a housing development located on the site of the former -Amy Johnson School.

The Hilton Hotels at both the London Gatwick and Stansted airports named -Amy's Restaurant and Bar- after her as well. And these are just a sample of the buildings named in her honor.
Johnson's Planes and Flight to Australia

Her first plane was a de Havilland DH.60 Gipsy Moth, which she named -Jason- after her father's business trademark. Her father and oil man Lord Wakefield had helped her purchase the plane so that she could make her historic flight to Australia.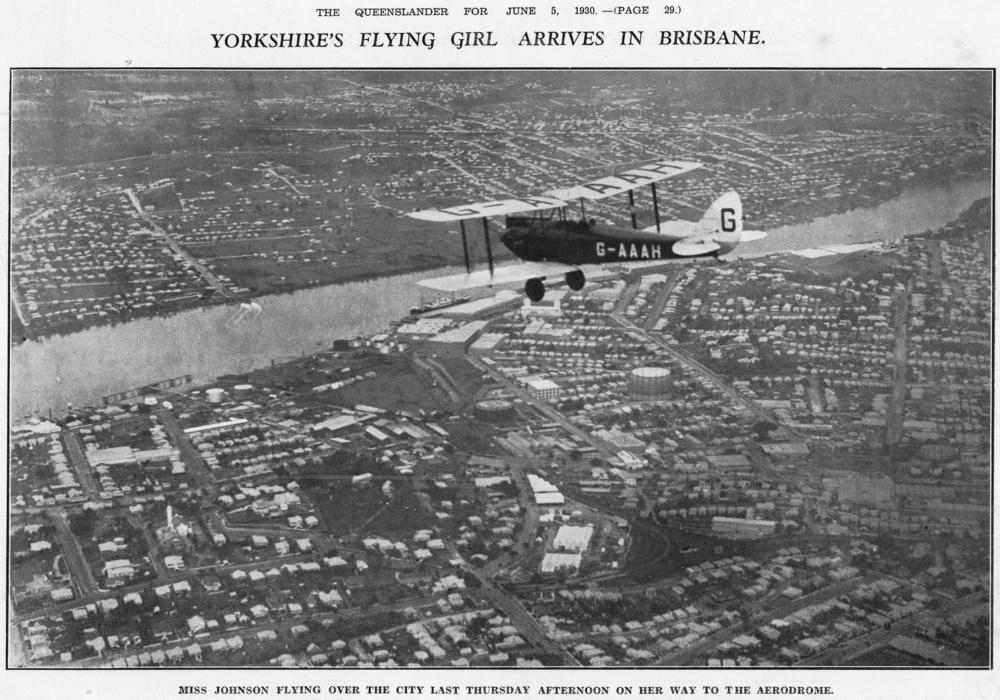 On May 24, 1930, Johnson crash-landed in Australia after flying 11,000 miles. That aircraft can now be seen in the Science Museum in London. She had wanted to beat pilot Bert Hinkler's time on the flight route but took nearly four days longer than he had, likely because of the type of plane she flew. Still, she was celebrated for being the first woman to fly solo to Australia.

The following year, Johnson set two more records: the fastest flight from London to Moscow in one day and the fastest flight time from Britain to Japan. After landing in Moscow in 21 hours, she continued on to Siberia and then Tokyo in her second G-AAZV de Havilland DH.80 Puss Moth named -Jason II.-

In 1932 she met Jim Mollison, a Scottish pilot, who proposed to her just 8 hours after they had met. The two were soon married and flew together throughout their marriage. Just a few months after they had met and married, Johnson broke her husband's record of flying from London to South Africa in a de Havilland DH.84 Dragon I named -Seafarer.-





The couple flew together often, competing in air races and setting records, but they divorced in 1938.

The year following her divorce, Johnson joined the Air Transport Auxiliary (a group of pilots who were not eligible for the RAF) where she ferried planes to RAF bases.

It was on one of these trips that Amy experienced weather issues, veered off course, and crashed into the Thames river. On January 5, 1941, she drowned at the age of 37. But that was just the first reported cause of death.

In 1999, a pilot reported that a plane had been spotted that night, contacted, but that its pilot failed to give the proper signal twice. Because of that, they fired at the plane, and it then descended into the Thames. The next day, they found out that it was Amy but were told never to tell anyone what had happened the previous night.

Regardless of what had happened, her death was a tragic one of a celebrated and boundary-pushing aviatrix that is still celebrated today.
---
Sources:

https://en.wikipedia.org/wiki/Amy_Johnson
https://www.ninety-nines.org/amy-johnson.htm
http://www.century-of-flight.net/Aviation%20history/pathfinders/Amy%20Johnson.htm