By Sarah Simonovich on Feb 3rd 2017
The Post-WWII years included a critical shift in aviation history-even more so than the war itself was. This point, starting in the mid-to-late-40s, saw the transition from propeller-driven warplanes to jets.

The Vought F6U Pirate was one of the early ones.

The F6U, the result of developmental work during WWII, was Vought's first jet fighter. It was also the U.S. Navy's first fighter with an afterburner and partial composite material construction. Though this aircraft was a pioneer of using turbojet power, it ultimately proved to be underpowered, and was therefore judged unsuitable for combat. Though 33 aircraft were built, none were ever used in operation squadrons; instead, the Vought F6U Pirate was downgraded for use as training and test aircraft before they were completely withdrawn from all service in 1950.
Design and Operation
On September 5, 1944, the U.S. Navy's Bureau of Aeronautics (BuAer) issued a specification for a single-seat, carrier-based fighter powered by a Westinghouse 24C axial turbojet. BuAer awarded contracts to several plane makers, including Chance Vought Aircraft Co., for the Navy's first jet-powered fighters. The War was over before the first XF6U-1 Pirate prototype was moved to a super-secret airbase in California.

The look and design of the F6U Pirate wasn't very pretty, but it was meant to be more functional.

Overall, the aircraft was small. It was built with a tricycle landing gear with straight wings and tail surfaces. The wings themselves were short and didn't need to fold. The retractable nose gear and raised up tail were designed so the aircraft could fit more easily into crowded hangars.

The Pirate's skin was made from balsa wood sandwiched between two thin sheets of aluminum, called -Metalite-. The surfaces of the vertical stabilizer and rudder were made of a similar material, called -Fabrilite,- but which used fiberglass instead of aluminum.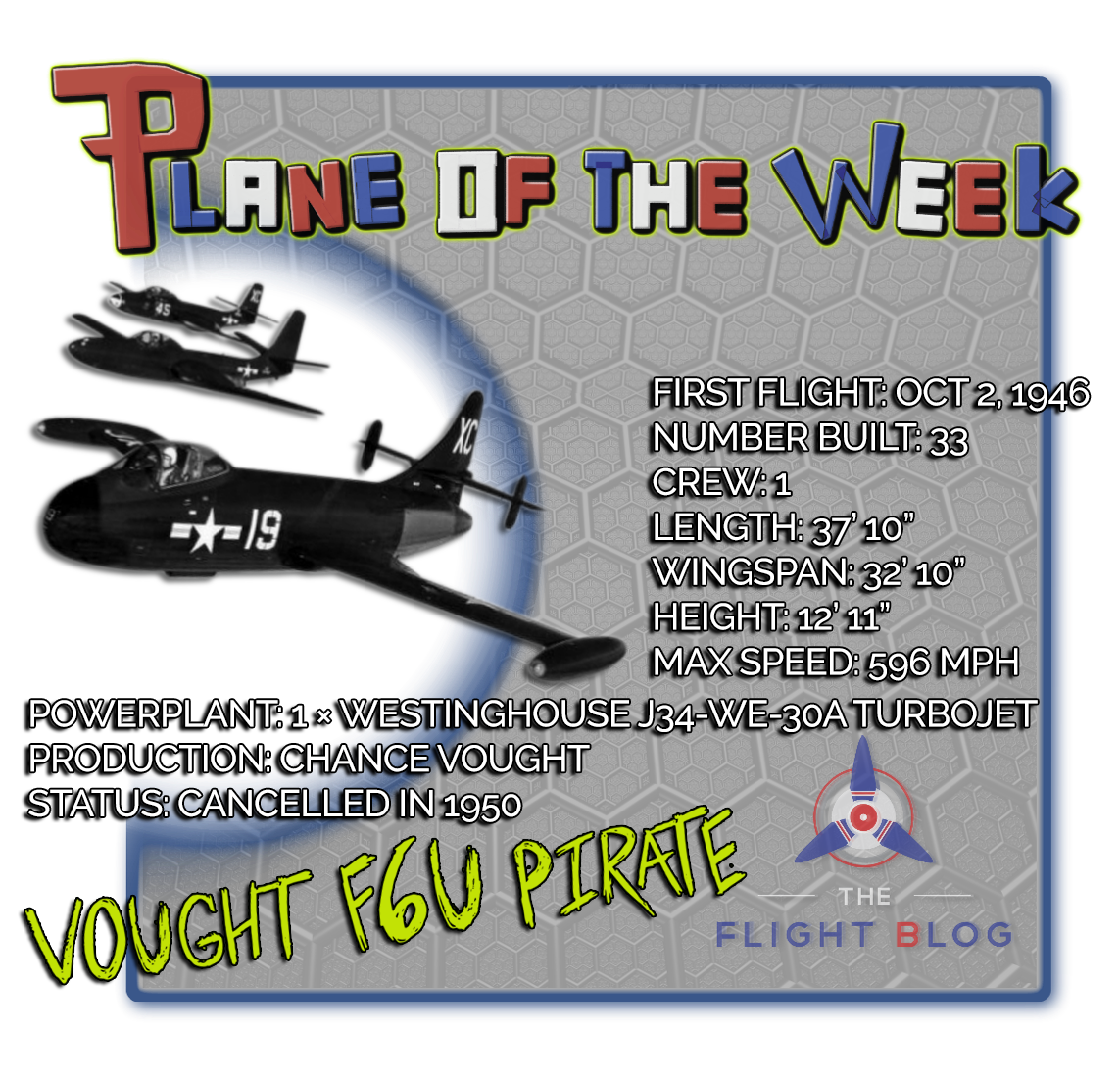 The Vought F6U took its first flight on October 2, 1946 with test pilot Boone Guyton. Unfortunately, it didn't go so well-and that's an understatement. The engine seized and Guyton had to make a deadstick landing. Flight testing was delayed for months, thanks to necessary repairs of the plane's lubrication system, as well as surprise flooding of the California air base.

Vought built 3 XF6U-1 prototypes; one, used for static tests, never actually flew. Of the two aircraft that underwent flight testing, one became the first Navy aircraft with an afterburner in 1948. The Navy ordered 30 production aircraft before the F6U prototypes had finished flight testing-a risky move that would prove to be a bad call.

The first production F6U-1 performed its first flight on June 29, 1949. Twenty F6Us were sent to an operational evaluation squadron at Naval Air Station Patuxent River in Maryland. By the time the navy pilots evaluated the XF6U-1s, it was clear that the Pirate wasn't great. Actually, they said it was unacceptable for operational use. They called it the -groundhog- because it performed so poorly. Oops.

In October 1950, BuAer informed Vought of the F6U Pirate's -sub-marginal- performance and canceled their use. Some of the 30 aircraft had as little as 6 hours of flight time.

Today, one Vought F6U Pirate remains intact (122479, Vought production number 2). It has undergone restoration by the Vought Aircraft Heritage Foundation and is currently located at the National Naval Aviation Museum in Pensacola Florida.
Although the F6U ultimately failed to meet combat utilization, you've got to give props to one of the first jet fighters in the world.
---
Sources:
https://en.wikipedia.org/wiki/Vought_F6U_Pirate
http://www.defensemedianetwork.com/stories/f6u-pir...