By Kayleigh DeMace on Mar 9th 2018
Starting out as a WWII aircraft for the U.S. Navy, the Grumman G-21 Goose evolved into a recreational and commercial transport aircraft. This flying boat embodies a lot of firsts for the Grumman manufacturing company.
Design and development of the G-21
It all started in 1936 when a group of wealthy Long Islanders was looking for an aircraft they could fly into the city with.

Just one year later, a prototype took flight. Their plane was made of almost all metal and featured high wings that were partially covered with fabric, as was most of the flight control surfaces. The fuselage provided a great amount of space that could either be used for transportation or as a luxury airliner.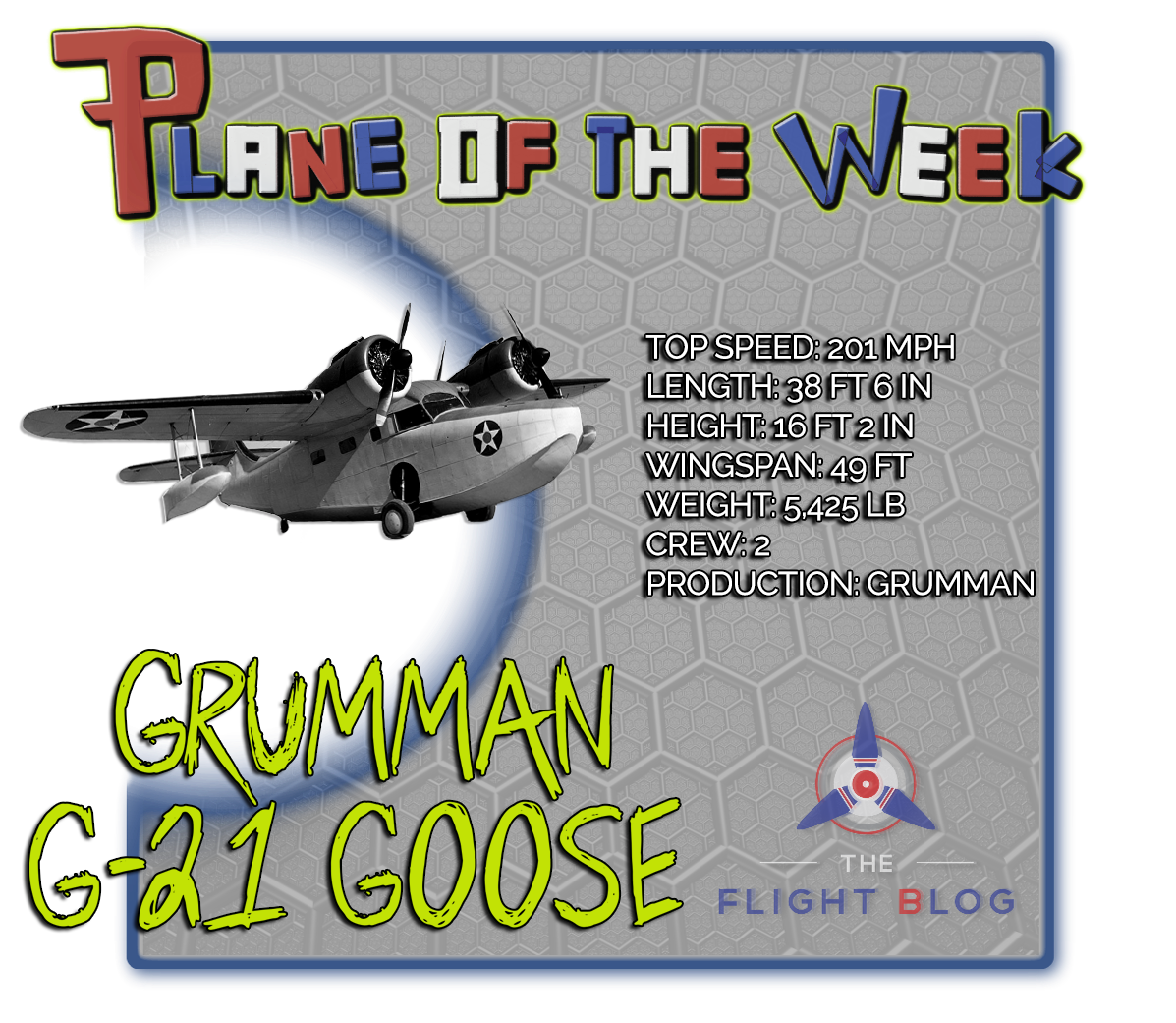 The wings were mounted with two Pratt & Whitney R-985 Wasp Junior radial engines. These had nine-cylinders, were air-cooled, and were 450 horsepower. The landing gear was retractable via a hand crank.

The G-21 is operated by a crew of two and could hold six to seven passengers. A narrow and deep fuselage was designed to accommodate water landings. This aircraft became Grumman's first monoplane, twin-engine, and the first aircraft to enter service with a commercial airline.
Operation as civil and military aircraft
Its initial operation as a passenger aircraft included luxury interior fit enough for the wealthy using the planes to fly into New York City.

During WWII, the military placed orders for a number of G-21s, turning this civilian aircraft into a military one. Grumman was, at the time, an experienced company in designing fighter planes, and most of their over 300 produced aircraft were for US, Britain, and Canadian military orders.
Civil production aircraft were called the G-21As while the military used them for transport, training, armed patrol, and sea rescue.

After the war (a-after the war), G-21s served the U.S. Department of the Interior of Alaska for passenger transportation. Today, they are mostly owned and operated privately, mostly operated in Alaska, California, and in the Caribbean islands.
In late 2007, one company said they would begin producing Goose aircraft, but that project never took off. We can only hope that someone brings this great plane back into production.
---
Sources:

https://disciplesofflight.com/grumman-goose-aircraft-profile/
https://en.wikipedia.org/wiki/Grumman_G-21_Goose
http://www.airliners.net/aircraft-data/grumman-g-21-goose/230
https://www.militaryfactory.com/aircraft/detail.asp?aircraft_id=833