By Patrick Gensel on Mar 31st 2017
The Dash 7, as it's typically referred to, is an aircraft used as a regional airliner. The Dash 7 is powered by four Pratt & Whitney Canada PT6A-50 Turbprop Engines. This aircraft is also known for its short take-off and landing, or STOL, performance.
Development and First Flight
Prior to the success of the Dash 7, de Havilland Canada was primarily in the market of small high-performance STOL aircraft, such as their popular DHC-6 Twin Otter. While these aircraft were great and had an excellent track record, they were unable to compete in the regional transport market as they weren't big enough to carry the passenger load needed to serve these routes. De Havilland Canada's team believed they could be competitive with the larger Turboprop planes that ran these types of routes.

In the 1970's new noise restrictions began to crop up and, due to that, turboprop manufacturers had to adapt. By increasing the size of the propellers, the rotational speed needed to generate adequate thrust is reduced. This created less noise by keeping prop speed well below the speed of the sound.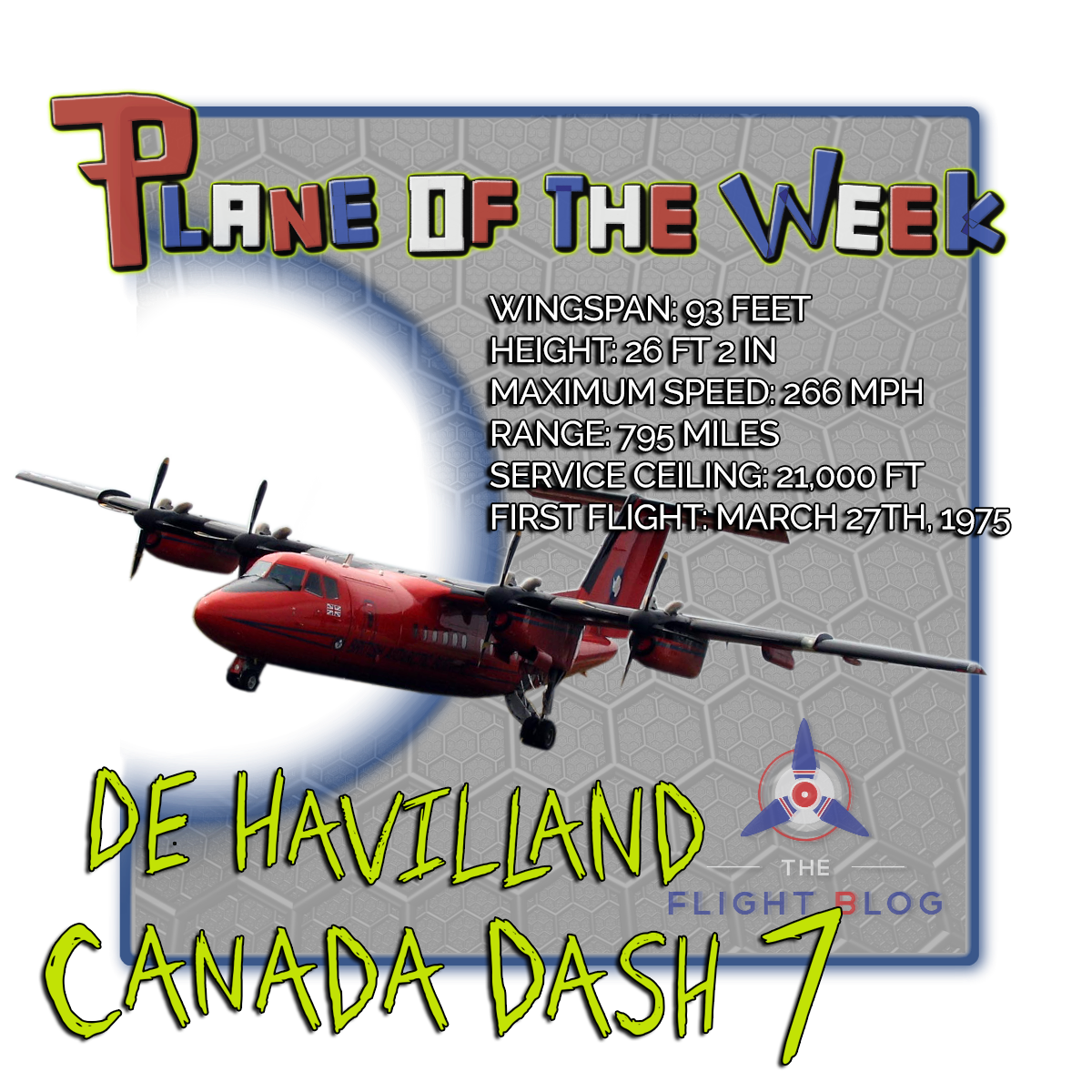 The Dash 7 also uses constant speed propellers to allow for adjustable thrust while maintaining a consistent rotational speed. This allows for the ability to increase power while keeping prop speed relatively low.

On March 27 th, 1975, the de Havilland Canada Dash 7 took flight for the first time, propelling de Havilland into the regional airline market.
Design
The Dash 7 borrowed much of its design from the Twin Otter, commonly being considered a larger version of the Twin Otter with a four-engine configuration. Some notable changes incorporated into the Dash 7 include a pressurized cabin, forward folding landing gear, and a T-tail large enough to mitigate the effects of prop wash.
STOL (Short Takeoff and Landing)
STOL stands for short takeoff and landing. Many planes with this distinction are bush planes, which are primarily landing on improvised runways. The Dash 7, however, is a passenger plane designed for prepared landing areas such as a paved runway at an airport.

STOL planes are designed to create adequate lift over shorter distances as well as mitigate requisite landing distance through effective breaking and in some cases reversing thrust.