By Kendra Kuhar on Jun 28th 2018
The Seversky P-35 fighter plane paved the way for future military aircraft and was the U.S. Army Air Corps' (USAAC) first single-seat fighter. The all-metal plane fought against Japan early on in WWII.

The modern airplane had an enclosed cockpit and a retractable undercarriage extending from its all-metal exterior. Its introduction and arrival in the United States was an exciting event because officials were under the impression the plane would make the nation superior in the aerial military.

However, the military soon discovered the plane's fighting capability to be notably limited. The limited performance also stemmed from the machine gun arrangement on the plane.
Alexander P. Seversky
Russian Alexander P. Seversky designed the P-35. He enlisted in the Russian Air Service during WWI and nearly died when an undetonated bomb exploded upon crashing his plane. After surviving the near-death experience, Seversky's determination increased. He became one of Russia's high-scoring aces before going to the United States to secure war goods. When the turmoil in Russia escalated, Seversky officially became a U.S. citizen.

Seversky befriended General Billy Mitchell and reached the rank of Major in the Army Crops Reserve in 1926. His passion for aeronautics compelled him to rent a hangar and hire a staff to design a plane. Alexander Kartveli, the designer of the P-47 Thunderbolt fire, helped him design the SEV-3--his first plane.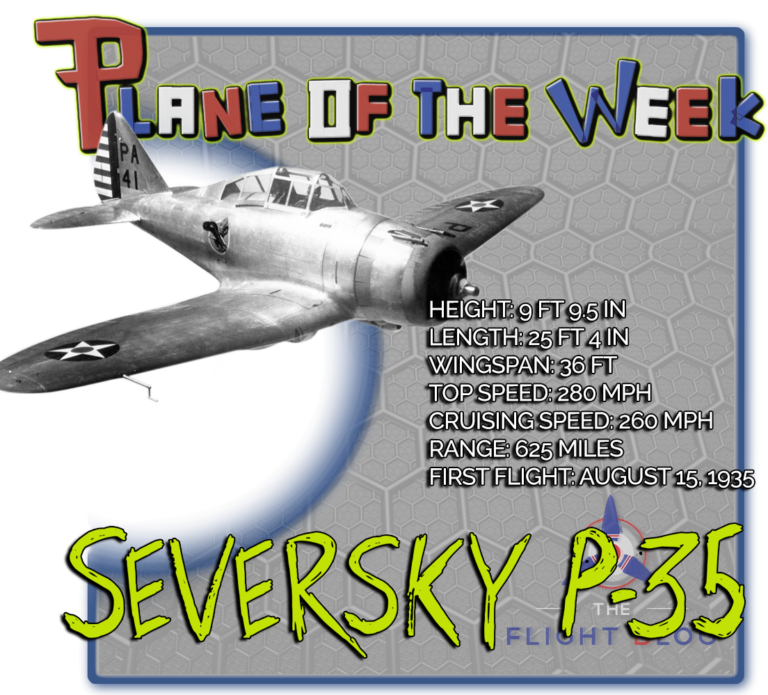 Design

Seversky settled down in the United States and went through several trials in designing the P-35. He intended the P-35 to win a contest by deciding the successor of the Boeing P-26 -Peashooter- monoplane used by the army.

His original plane submission was changed last minute due to damage from a crash into the ocean on his way to the Wright Field competition. The extra time allowed him to change the tail-plane and add a Pratt & Whitney R-1830-39. The plane was awarded a contract for 77 production models of the P-35.

The all-metal plane had a low-wing cantilever with fabric covering the flight controls. It also had retracting landing gear and a fully enclosed tail wheel. The landing gear proved to be a major flaw of the P-35 because flush-folding landing gear took over most fighter plane designs. Two machine guns were inside of the wide cowling in the engine.

Although the plane did not do well in warfare, it did lay the foundation for future warplanes and helped engineers learn what did and did not work. They evacuated members of the Army to safety after they stopped being useful in combat. They offered spacious baggage compartments in the fuselage.
---
Sources:
https://www.militaryfactory.com/aircraft/detail.a...
http://www.aviation-history.com/seversky/p35.htm