By Sarah Simonovich on Oct 14th 2016
The MiG-31 Foxhound is one of the fastest combat jets in the world.
The Mikoyan MiG-31 (NATO codename Foxhound) was developed by Soviet Air Forces to replace the MiG-25 "Foxbat." Introduced in 1970, the Foxbat was among the fastest military aircraft ever developed. But it had its fair share of issues; while the Foxbat was fast, it wasn't agile and was difficult to fly at low altitudes.

So they devised a replacement. This replacement was to address both the speed and range limitations of MiG-25. The first prototype (Ye-155M research prototype) had its first flight on September 16, 1979. Serial production began in 1979 at the Soviet Gorky Plant.
Design
The MiG-31 was designed with the following objectives:


Intercept cruise missiles and their launch aircraft by reaching missile launch range in the lowest possible time after departing the loiter area
Detect and destroy low flying cruise missiles, UAVs and helicopters
Long range escort of strategic bombers
Provide strategic air defense in areas not covered by ground based air defense systems
This supersonic interceptor is a large twin-engine aircraft with side-mounted air intake ramps; a shoulder-mounted wing with an aspect ratio of 2.94; and twin vertical tail-fins. Unlike its predecessor the MiG-25, the MiG-31 has two seats: one for the pilot and an additional rear seat for a dedicated weapon systems officer.

The wings and airframe of the Foxhound are stronger than those of the Foxbat; the added strength enables the aircraft to perform at supersonic speed at low altitudes.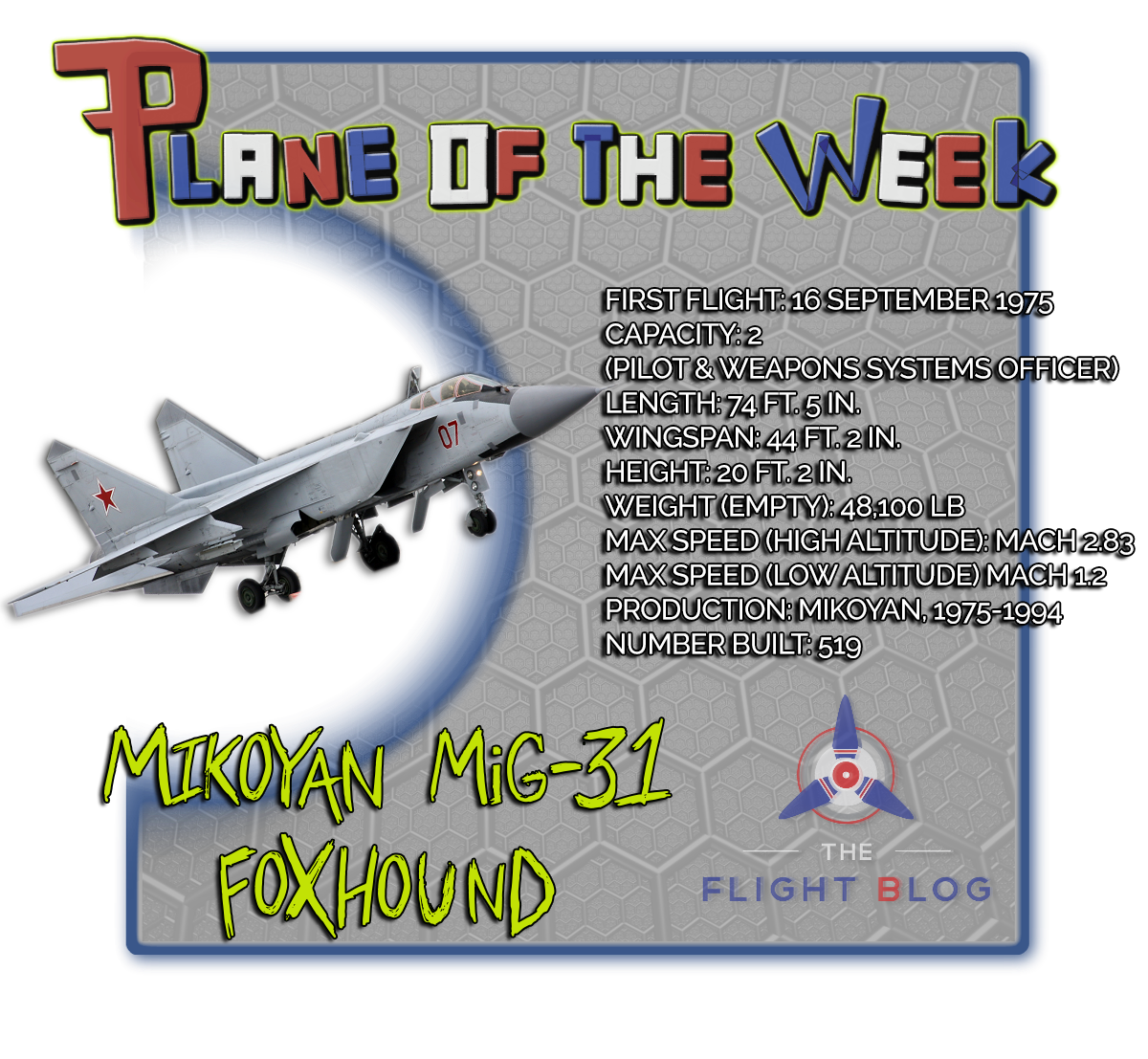 Operation
While production of the MiG-31 ended in 1994, these interceptors are still in use. In fact, the The Russian Defense Ministry expects it to remain in service till at least 2030.

519 aircraft were produced between its introduction in 1981 and 1994. Of the 519 total aircraft, 349 were "baseline" models produced at the Sokol plant between 1976 and 1988; 101 Mig-31DZ's were produced between 1989 and 1991; and the final batch (Mig-31B) of 69 aircraft were produced between 1990 and 1994. Of the final 69 produced, 50 aircraft were retained by the Kazakhstan Air Force after the dissolution of the Soviet Union. A portion of the baseline models were upgraded to MiG-31BS standard.

Russia plans to develop a replacement for the MiG-31 soon--in fact, sources suggest that a replacement is already well underway.
---
Sources:
https://en.wikipedia.org/wiki/Mikoyan_MiG-31
http://www.militaryfactory.com/aircraft/detail.asp?aircraft_id=65