By Kayleigh DeMace on Jun 13th 2018
From the WWII era, the Fairey Aviation torpedo bomber was built by Fairey Aviation. Lovingly called the "Applecore" by those who flew them, the Albacore was designed to replace the Fairey Swordfish.
Design and Development
As a response to Air Ministry specification S.41/36, the Fairey Albacore was a three-seater, single engine biplane designed by Marcelle Lobelle at Fairey Aviation for level, dive, and torpedo bombing as well as for reconnaissance and spotting. The aircraft has a maximum under wing bomb load of four 500 lb. bombs.
Designed with better aerodynamics than the Swordfish it was replacing, the Fairey Albacore's constant speed propeller and Bristol Taurus II engine (later the Taurus XII) worked well for the plane. With a heated cockpit and top speed of 160 mph, Albacores quickly became well-loved by those who flew them.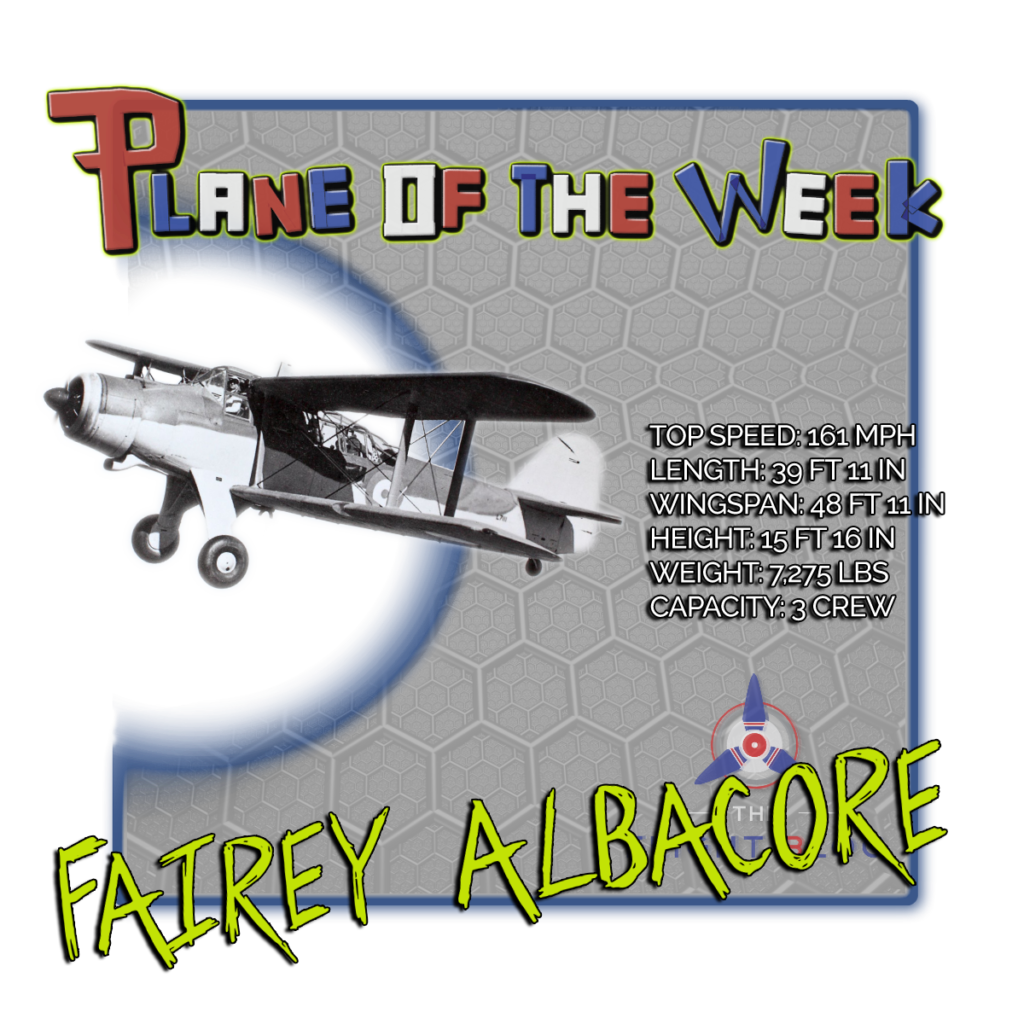 The first prototypes were built in December of 1938 with 98 being produced the following year. Including the two prototypes, 80 Fairey Albacores were built at the Fairey Hayes Factory and flown for testing at today's London Heathrow Airport. The planes entered service in 1940 with the 826 Naval Air Squadron Fleet Air Arm.
Operation During WWII
The first Albacore aircraft were primarily used for patrolling and attacking German ships in the English Channel. Not long after this, they were deployed by carriers but soon found to be not as nimble as the Swordfish they replaced.
In addition to serving with the British Royal Navy's Fleet Air Arm, Albacores served with the Royal Canadian Air Force and the United Kingdom Royal Air Force. They saw work as reconnaissance aircraft during the 1944 Normandy invasion, as torpedo bombers in Java, and more.
Albacores were retired in 1943 before the Swordfish with just 800 having been built. They were replaced by the Avenger and Barracuda torpedo bombers.
Today, only one Albacore is known to have survived. It has been built using parts of crashed Albacores N4389 and N4172 and is on display at the Fleet Air Arm Museum in England.
---
Sources:
http://www.historyofwar.org/articles/weapons_fairey_albacore.html
https://www.militaryfactory.com/aircraft/detail.asp?aircraft_id=1390
https://en.wikipedia.org/wiki/Fairey_Albacore
https://ww2db.com/aircraft_spec.php?aircraft_model_id=224