By Sarah Simonovich on Nov 17th 2017
The Boeing F/A-18 Super Hornet is not to be confused with the McDonnell Douglas F/A-18 Hornet-although the former was based on the latter.
This hornet is super

This twin-engine, supersonic, all-weather multirole fighter jet is capable of landing and taking off from an aircraft carrier. What is perhaps the most impressive feat for this aircraft, however, is the fact that every single Super Hornet has been delivered on cost and on schedule. When's the last time you read that? Certainly not with the US Navy's newest aircraft carrier, that's for sure-

McDonnell Douglas designed and initially produced the F/A-18 Super Hornet after the U.S. Navy first ordered it in 1992. They kept the F/A-18 designation as a means to help sell the program to Congress as a low-risk -derivative.- However, the Super Hornet is essentially a new aircraft. Some of the shared characteristics include avionics, ejection seats, radar, armament, mission computer software, and maintenance/operating procedures.

This new aircraft first flew on November 29, 1995. The initial production also began in 1995. Flight testing began in 1996 and the Super Hornet had its first carrier landing in 1997. While low-rate production began in March of 1997, full production didn't occur until September. Testing continued through the rest of the 90s with sea trials and aerial refueling demonstrations finishing in 1999. After undergoing navy operational tests and evaluation, the Super Hornet was approved in February 2000.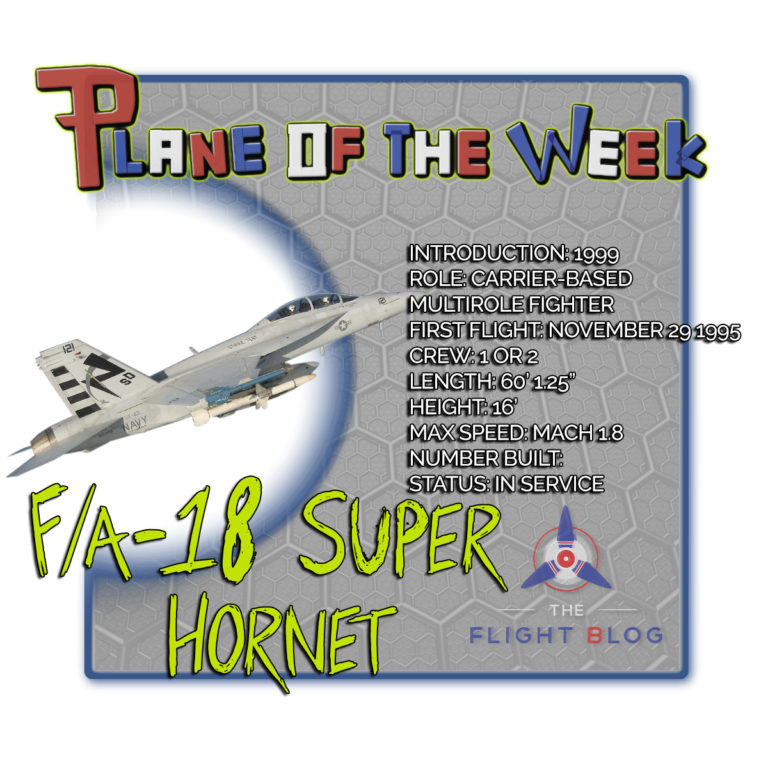 Design & Operation

Compared to its predecessor, the F/A-18 Super Hornet is about 20% larger, 7,000 pounds heavier empty weight, and 15,000 pounds heavier maximum weight. The aircraft also carried 33% more fuel, which increased its mission range by 41% and endurance by 50%. Unlike the -Legacy- Hornet, the Super Hornet has also been designed to enable an aerial refueling system (ARS) for refueling other aircraft.

When it comes to the airframe, only the forward fuselage has been left unchanged. Designers stretched the fuselage by nearly 3 feet to make room for additional fuel and avionics as well as increase the wing area 25%. Even the General Electric F414 engine added an additional 35% thrust. The addition of intake ramps are two extra wing hard points for payload are other notable differences in its airframe.

In September 2001, the F/A-18 Super Hornet achieved initial operating capacity (IOC) with the Navy's Strike Fighter Squadron 115 (VFA-115) at Naval Air Station Lemoore, California. This was also the first unit to take these aircraft into combat. In April 2005, Boeing delivered first Block II Super Hornet (a variant), complete with the world's first tactical multi-mode AESA radar. It became fully operational by the end of 2007.

Of all the aircraft in the United States' tactical fleet, the Super Hornet is considered the most cost-effective. It costs less per flight hour that any other tactical aircraft in U.S. forces inventory.
---
Sources:
http://www.boeing.com/defense/fa-18-super-hornet
https://en.wikipedia.org/wiki/Boeing_F/A-18E/F_Sup...