By Sarah Simonovich on Jul 14th 2017
Not all vampires suck, you know.
Not all vampires can fly, either. In both American and European folklore, only some can. But Bram Stoker's Dracula, The Little Vampire, and The Lost Boys all could fly. So could this de Havilland Vampire. And fly it did.
Britain's Second Jet-Powered Aircraft Post-WWII
In 1941, the de Havilland Aircraft Company began exploring the concept of a fighter aircraft that utilized the revolutionary jet propulsion technology that was currently under development. Sir Henry Tizard of the Aeronautical Research Committee (ARC) informally made the suggestion.

De Havilland also needed to develop an appropriate engine. Aero-engine designer Frank Halford developed the engine, initially known as the Halford H.1. Halford based his work on Frank Whittle's centrifugal-flow designs, but he simplified it. The engine used a single-sided compressor with the inlet at the front and a "straight through" layout with the combustion chambers exhausting straight onto the turbine. This centrifugal engine was capable of generating 3,000 pounds of thrust. At the time, this was considered high.
The Halford H.1 was later known as the de Havilland Goblin.
While low power output of early jet engines limited aircraft designs to twin-engine designed for practicality, more powerful engines such as the de Havilland Goblin meant a single-engine jet fighter was now feasible.

The Ministry of Aircraft Production (MAP) expressed doubts regarding de Havilland's first design estimates. Designated the DH.99, it had an all-metal, twin-boom, tricycle undercarriage aircraft armed with four cannons. The rudder empennage was clear of interference from the exhaust. De Havilland estimated 455 mph speed at sea level and an initial climb of 4,590 feet/minute on 2,700 lb thrust.

The DH.99 underwent several modifications, including the addition of wood-and-metal construction, as recommended by MAP. The aircraft was renumbered DH.100.

MAP suggested de Havilland drop the experimental project in favor of a bomber, but de Havilland persisted. The Ministry authorized de Havilland to construct 2 prototypes in April 1942.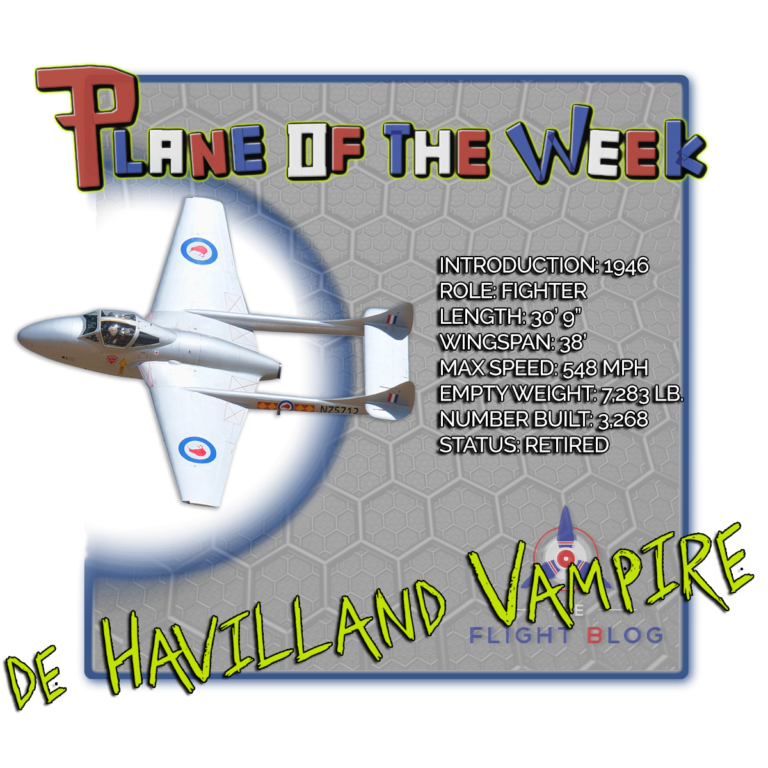 Design & Development
The first DH.100 prototype flew on September 20, 1943. An initial production order for 120 Vampire Mk I was placed on May 13, 1944. The order more than doubled to 300 in a short amount of time. The production Vampire Mk I did not fly for another year.

Production only churned out six aircraft by the end of WWII. Though the aircraft didn't see much combat in WWII, the project wasn't affected by post-war cuts. Both the Royal Air Force and Royal Navy utilized the de Havilland Vampire (the navalized variant was dubbed the Sea Vampire).

The finalized vampire had a twin boom layout and the cockpit was seated in its centralized nacelle with the engine. The booms extended from mid-chord on the monoplane wings and each boom had a small-area vertical tail fin. It had no radar, only manually-operated flight controls, a simple airframe, and mostly only used conventional practices and technologies.

Initially, the de Havilland Vampire was just a fighter. However, it was eventually also given strike duties. Its armaments included four Hispano Mk.V autocannons, each which could hold 150 rounds. It was also capable of carrying up to 2,000 pounds of optional ordnance, such as 8 × 3-inch "60 lb." rockets or 2 × 500 lb. bombs (or two drop-tanks).
Today, over 80 Vampires remain airworthy, although only a small number are still flying (much like in vampire lore today).
---
Sources:
https://en.wikipedia.org/wiki/De_Havilland_Vampire
http://www.militaryfactory.com/aircraft/detail.asp?aircraft_id=223