By Kayleigh DeMace on Aug 15th 2018
Colonel Robert Lee Scott, Jr. is well-known for his autobiography, God is My Co-Pilot, and served as a brigadier general in the United States Air Force as well as a flying ace of World War II. To say the least, he accomplished a lot during his lifetime. But this is just the tip of the iceberg.
Military Career
Born in 1908, Robert Lee Scott Jr. graduated from the U.S. Military academy in 1932 and completed his pilot training the following year in Texas at Kelly Field. He flew air mail in 1934 before commanding a squadron in Panama. He also helped train pilots in California and Texas airfields, but his career began long before that. As a boy scout, he built a glider aircraft for a merit badge. Although he did crash this plane and landed in a rose bush, he never crashed again.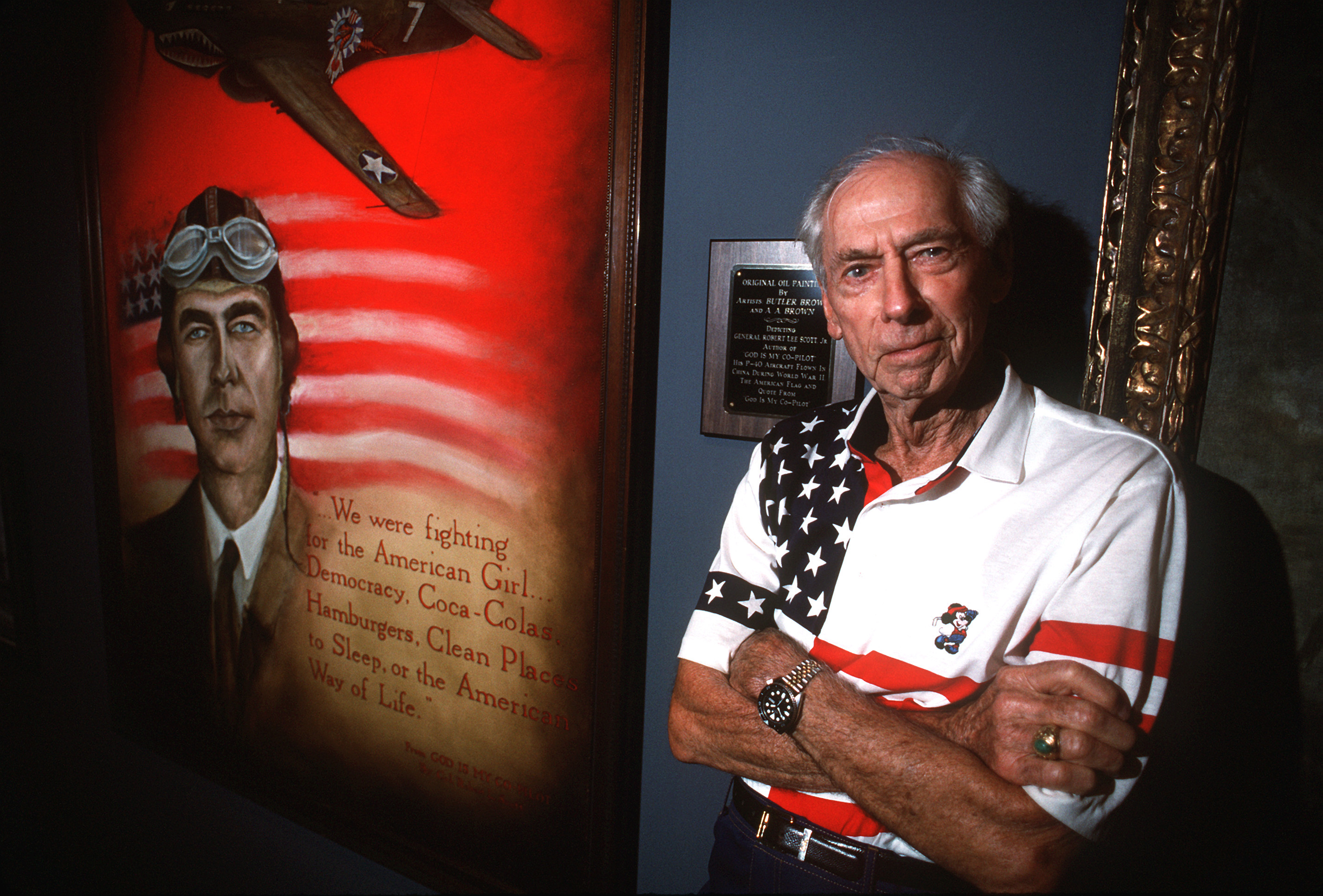 With a military career starting in China early on in WWII, Robert Lee joined the Task Force Aquila and flew a Boeing B-17 Flying Fortress. He had said he had experience with these planes, but the truth was that he was just itching to john the mission. He actually learned to fly the B-17 on his way to Africa- in the B-17!

Soon, he joined the Flying Tigers and began piloting a P-40 on which he frequently repainted the propeller to create the illusion that there was more than one aircraft in the fighter force. This earned him the nickname -One Man Air Force.- When the Fighting Tigers were absorbed into the U.S. Army, Scott became commander of the 23 rd Fighter Group, part of China's new Air Task Force.
Awards and Post-War Life
In total, he flew 388 combat missions with over 900 hours and downed 13 enemy aircraft. He became one of the earliest war aces and was awarded two silver stars and three each of the Distinguished Flying Cross and the Air Medal. In 1943, he was sent back to the U.S. for a nationwide tour, where he was asked to write about his experiences for a book. This began his publishing career, and he wrote his first book in just three days. Around this time, he was also stationed around the world serving of commander Jet Fight Schools and at Air Force bases until his retirement.
One of the amazing feats Robert Lee accomplished while in the military was evacuating thousands from being trapped when Burma was overrun by Japan. He flew through terrible storms and outflew Japanese fighters, bringing evacuees to India in a C-47 plane.

Among his numerous accomplishments, as we touched on before, he was also the author of several books and short pieces. He was published in Readers Digest and through publishing houses including Random House and Bantam Books.

During his service, he shot down so many Japanese aircraft that he was awarded a Double Ace. He died on February 27, 2006, in Georgia and is buried with full military honors at Arlington National Cemetery.
---
Sources:

https://en.wikipedia.org/wiki/Robert_Lee_Scott_Jr.
https://www.nytimes.com/2006/02/28/us/robert-scott-warhero-author-dies-at-97.html
http://www.thehistoryreader.com/military-history/robert-lee-scott-jr/
http://www.af.mil/About-Us/Biographies/Display/Article/105661/brigadier-general-robert-l-scott-jr/
http://acepilots.com/pto/scott.html