By Kendra Kuhar on Apr 27th 2018
Canadian ace Air Marshal William "Billy" Bishop played a key role in WWI and WWII. He also recruited for the Royal Canadian Air Force and advocated on behalf of the British Common Air Training Plan.
Born on February 8, 1894, in Ontario, Billy Bishop learned to thrive at a young age in sports focused on individual skill rather than teamwork. He excelled in horseback riding, swimming, and shooting.

Although Bishop did not apply himself academically, he showed ambition in the activities he did enjoy. He built an aircraft made of cardboard, wire, wood, and string at the age of 15 and attempted to takeoff from the roof of his home before crashing on the lawn.
Military Career and Education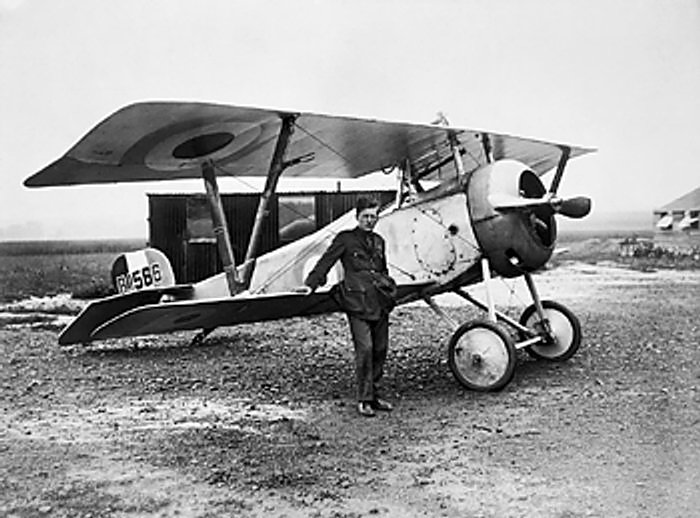 Billy followed his older brother, Worth, to the prestigious Royal Military College in Kingston at 17. Unfortunately, he struggled to adapt to an environment where upperclassmen gave younger kids a tough time and often stood up for himself through fighting. He had a few run-ins with trouble at the school itself until his senior year when the war broke out and Bishop enlisted. Shortly after, officials assigned him to the cavalry because of his impressive horseback riding and shooting skills and he received an officer's rank.

Bishops military career began in August 1914 at the Mississauga Horse Regiment. After falling ill, officials reassigned Bishop to the 7th Canadian Mounted Rifles in London, Ontario. He left on June 8, 1915, to sail to England before being stationed at the Shorncliffe Military Camp.
Moving into Aviation
One month after arriving in England, he saw an airplane flying above and it reignited his interest in aviation. He wanted to begin training as a pilot immediately so he applied to transfer to the Royal Flying Corps. He would later write in his autobiography titled Winged Warfare:
It was the mud, I think, that made me take to flying...
I had succeeded in getting myself mired to the
knees when suddenly, from somewhere out of the storm,
appeared a trim little aeroplane.

It landed hesitatingly in a near-by field as if scorning
to brush its wings against so sordid a landscape,
then away again up into the clean grey mists.

How long I stood there gazing into the distance I do
not know, but when I turned to slog my way back
through the mud my mind was made up. I knew
there was only one place to be on such a day - up
above the clouds in the summer sunshine.

- William A. Bishop, Winged Warfare

Bishop's training was delayed due to an injury and some health complications, but he finally began in October 1916. He did ground training at the School of Military Aeronautics in Oxford and excelled before starting flying lessons at Upavon Flying School in Salisbury Plain. By November, he received his wings and prepared for assignment at Sutters Farm on the Thames for anti-Zeppelin night duty.
A Natural Fighter
Billy's first patrol came on March 17, 1917, in a Nieuport 17. He encountered his first dogfight on March 25 and skillfully maneuvered the skies when he earned his first victory after downing a German Albatross into a field.

However, his aircraft engine failed shortly after and he, too, crashed into land secured by the British only hours before. The following month, Billy had tremendous success as the war intensified. He claimed over 20 victories by the end of the month.

After meeting much more success and receiving the Victoria Cross for an attack on a German aerodrome, he returned to Canada and married his longtime fiance Margaret Eaton Burden.

Bishop was then assigned to the British War Mission in Washington, D.C. to help the United States build an air force. He also wrote his autobiography Winged Warfare at that time.

He returned to Europe and was slowly phased out of flying because Canada feared the damage on military morale would be severe if he was killed. On August 5, 1918, officials promoted him to Lieutenant-Colonel and Officer Commanding-Designate of the Canadian Air Force Section of the General Staff.

Billy later went on to become the first Canadian air vice marshal. He created a system known as the British Commonwealth Air Training Plane used to train pilots and recruited people to the Canadian Royal Air Force. By the 1950s, Bishop's health declined and the military politely rejected him when he offered to help with the Korean war. He passed away in his sleep on September 11, 1956 in Palm Beach, Florida. His funeral consisted of full Air Force Honour in Toronto, Ontario.
---
Sources:
https://en.wikipedia.org/wiki/Billy_Bishop
http://www.thecanadianencyclopedia.ca/en/article/william-avery-bishop/
http://www.historynet.com/william-billy-bishop-world-war-i-canadian-ace-fighter-pilot.htm