By Kayleigh DeMace on Jan 20th 2017
The Grumman X-29 is not your typical plane. Its unconventional design is like none other, and its testing and development was meant to experiment with a few different aircraft technologies.

Developed by Grumman, two were produced and flown by NASA and the U.S. Air Force. Other than the forward sweeping wings, this plane featured canard control surfaces and other new aircraft technology.

The X-29 first flew on December 14, 1984 as the third aircraft ever designed to fly with forward-sweeping wings. It was the first designed by the United States, with the other two having been designed by Germany. Almost one year later, on December 13, 1985, an X-29 was the first aircraft with forward-sweeping wings to fly in level flight at supersonic speed.
This was certainly an aircraft to make U.S. history.
Design and Development

The X-29s were built from two Northrop F-5A Freedom Fighter airframes. Designers fused features from the F-5A, including the forward fuselage and nose landing gear, with features from the F-16, including the control surface actuators and main landing gear.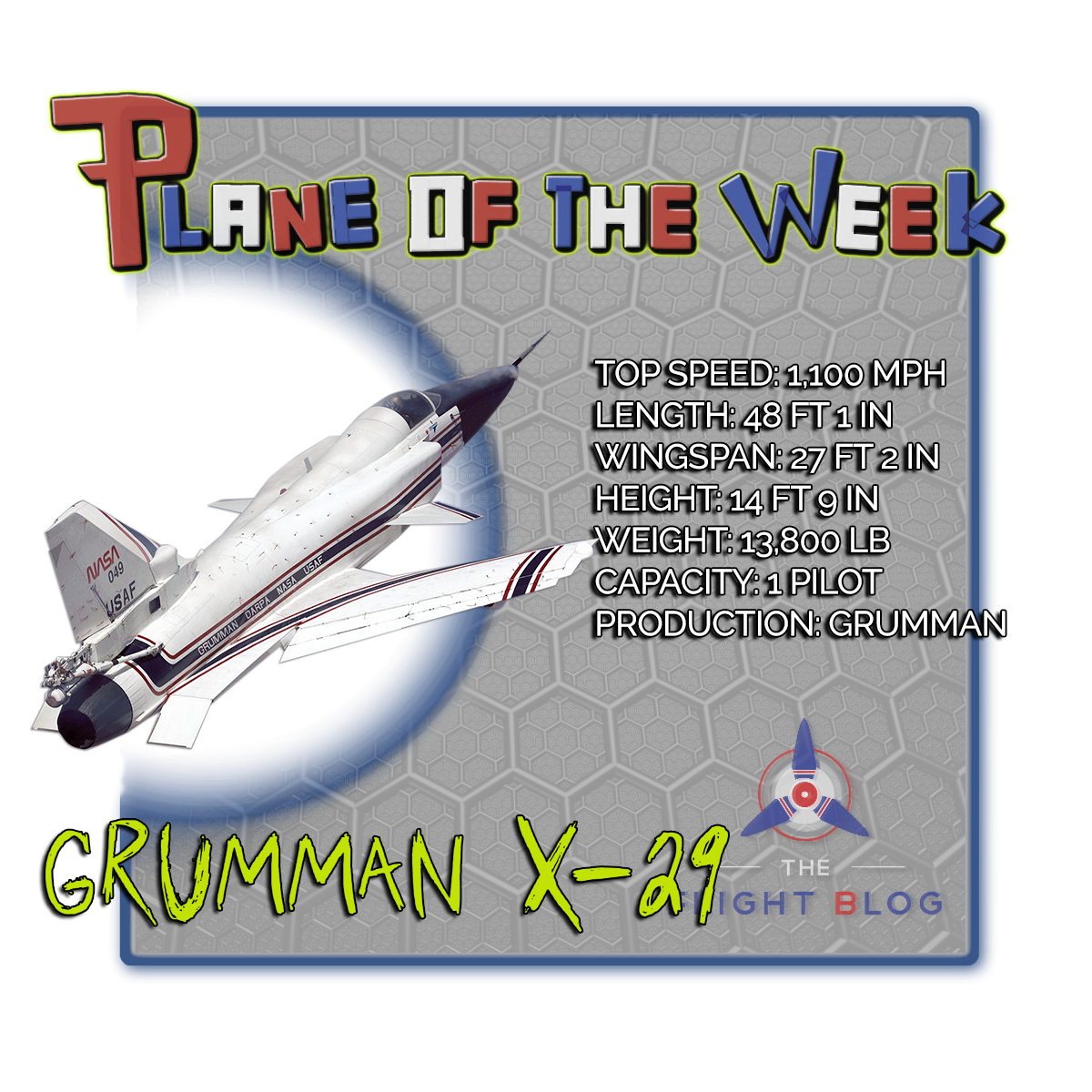 The forward-swept wings introduced problems with aeroelastic divergent twisting, which was countered by the use of composite materials. They were partially made from graphite epoxy. This also helped to reduce the weight of the aircraft.

The wings are swept forward just over 33°, and the plane was relatively unstable when first designed, so a computerized flight control system was installed. It provided 40 corrections per second to stabilize the aircraft. The control system consisted of three redundant digital computers and three redundant analog computers. Why the redundancy? To check for errors.

The pitch instability of this aircraft was high, which led to predictions of extreme maneuverability. However, likely because the aircraft did not have control surface actuators or sizable control surfaces, it was not extremely agile.
X-29 Service

The two aircraft that were developed flew a combined total of 422 research missions between 1894 and 1991.

These X-29s provided a developmental program to determine technology that can be used on future planes. The use of composite construction provided some flexibility in the wings which proved to limit twisting. It also eliminated the possibility of the wing deforming or breaking off mid-air.

The second X-29 model was used to test vortex flow control. It was modified in 1992 with the addition of two high-pressurized nitrogen tanks that featured two nozzle jets. These were added on the upper part of the aircraft's nose. Tests that year proved that vortex flow control was effective in left-to-right forces.

However, tests also proved it was less effective when wind pushed on the side of the aircraft. It also did not help to decrease aircraft rocking.
---
Sources:

https://en.wikipedia.org/wiki/Grumman_X-29
https://www.nasa.gov/centers/armstrong/news/FactSheets/FS-008-DFRC.html