By Sarah Simonovich on Oct 5th 2016
Technically, the application and color of paint on an aircraft goes beyond mere aesthetics.
A plane's paint job affects the weight of the aircraft and protects the integrity of the airframe. A topcoat finish is applied to protect the exposed surfaces and prevent corrosion and deterioration. A properly painted aircraft is also much easier to clean and maintain because the surfaces are more resistant to corrosion, dirt, and oil.

But we all know looks are important, too--when we look at an aircraft, our first impressions are governed by what we see first. And our first impressions can impact our lasting impressions, regardless of it being a commercial airliner or a much smaller single engine aircraft.

Some airlines are better at catching--and keeping--our attention by decking out one or two (or more) of their fleet with custom paint jobs. To combat the dread that tends to accompany commercial flying, we've compiled a list of some of the best-dressed planes that give us hope that flying doesn't have to be a drag:
5 Best-Dressed Commercial Aircraft
---
1. Alaska Airlines Salmon Thirty Salmon II
---
Alaska Airlines has a number of fancily-clad aircraft under their belt, but one of the best (and punniest) is definitely their Boeing 737-800 decked out with a 129-foot-long Alaska king salmon. The 2012 design is among the world's most intricately painted commercial airplanes and was produced in partnership with Alaska Seafood Marketing Institute, which promotes wild, natural and sustainable Alaska seafood.
2. Air New Zealand All Black Aircraft
ZK-OKQ "All Blacks," Boeing 777-300ER. (InSapphoWeTrust Flickr)
---
You don't have to be a rugby fan to appreciate Air New Zealand's slick black livery. Painted in honor of their World Champion All Blacks rugby team, the "All Black" design (first painted on a Boeing 777-300ER aircraft) first made its appearance out of Boeing's paint hangar facility in Seattle on December 16, 2011. Since its debut on the Dreamliner, Air new Zealand has painted several other aircraft black (because it never goes out of style). Like Alaska Airlines, Air New Zealand is not afraid to play around with custom paint jobs, such as a their Hobbit-inspired Aircraft.
3. All Nippon Airways Star-Wars Jets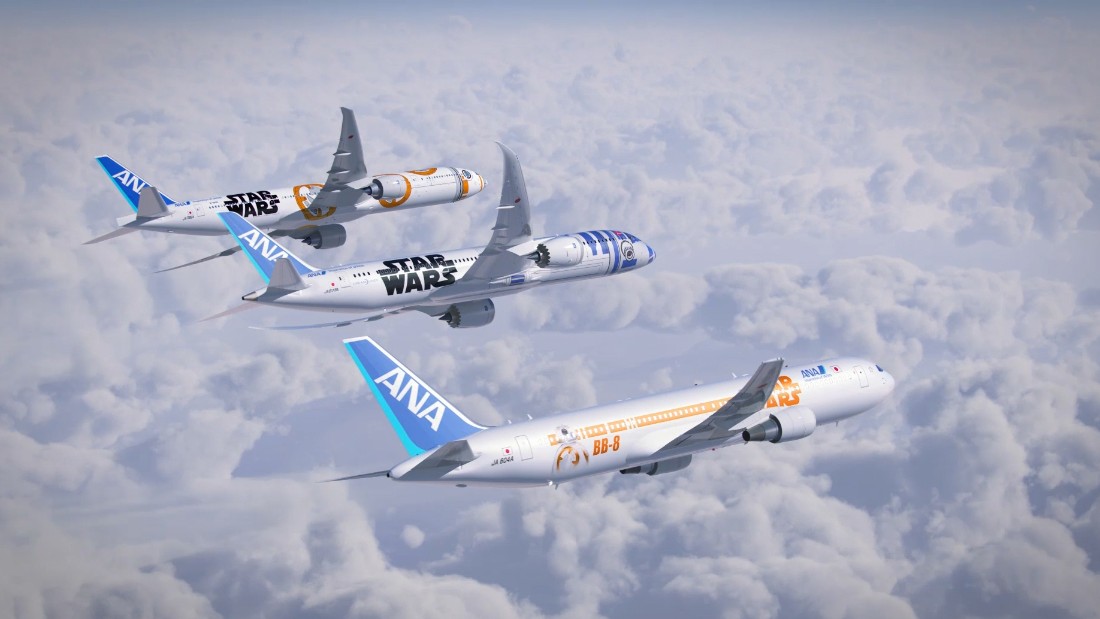 All 3 of ANA's Star Wars jets as renderings (CNN)
---
When it comes to custom-painted aircraft, we really want something out of this world. Earlier this year, All Nippon Airways (ANA) put their third and final Star Wars jet into service. ANA's R2-D2 jet, a Boeing 787 Dreamliner, was the first to debut in Star Warslivery. The "Star Wars" jet, a Boeing 767, and the BB-8 jet, a Boeing 777, are also part of the fleet.
4. EVA Air Hello Kitty Jets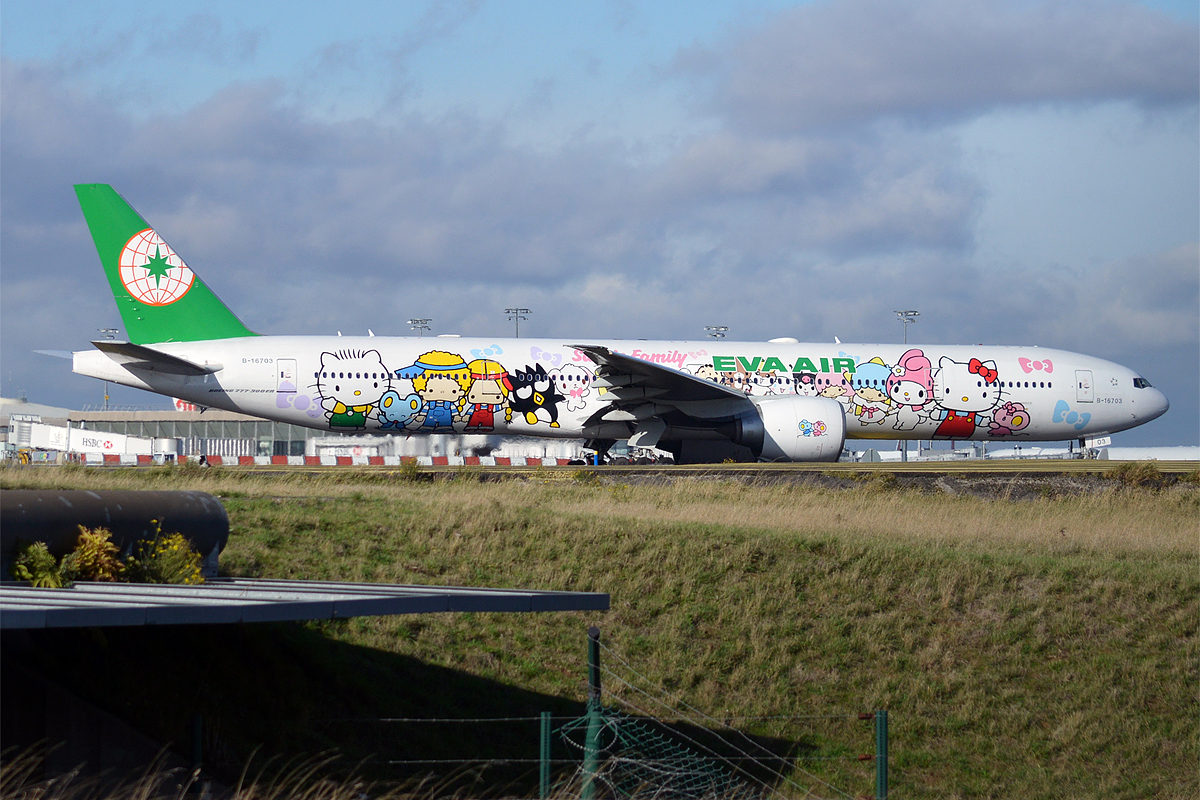 By Anna Zvereva - EVA Air (Hello Kitty Sanrio Family Livery), B-16703, Boeing 777-35E ER, CC BY-SA 2.0
---
Who says flying can't be fun? Certainly not EVA Air. The Taiwanese international airline has a whopping 7 Boeing 777s decked out in everything Hello Kitty: the Sanrio Family Hand in hand Jet, Magic Jet, Apple Jet, Global Jet, Happy Music Time Jet, Speed Puff Jet, and Shining Star Jet. And the cute doesn't stop at the surface: Hello Kitty can be found on more than 100 different items in the aircraft cabin.
5. Brussels Airlines Rackham
---
Brussels Airlines transformed their Airbus A320 into the famous shark submarine from the Tintin album "Red Rackham's Treasure." Tintin is a world famous Brussels-born character, created by Hergé– the "Rackham" plane was made possible by the collaboration between Brussels Airlines and Moulinsart. Besides the plane's outside livery, Rackham's interior also includes images from the comics, as well as copies of "Red Rackham's Treasure" in Dutch, French and English languages.