By Patrick Gensel on Jul 1st 2016
With the Independence Day weekend upon us, I decided to choose a plane somewhat synonymous with my childhood memories of patriotism. I can vividly remember as a child going to the local airshow every year at some point in July, eager to see the Blue Angels flying at lightning speeds in front of a cheering crowd. With that being said, I submit to you, for plane of the week; McDonnell Douglas's F/A-18 Hornet.
Going Supersonic
At 1,190 mph, or Mach 1.8, the F/A 18 Hornet is quite a mover. Traveling at nearly twice the speed of sound, this plane is no stranger to sonic booms. Speaking of sonic booms, did you know that the vapor cone produced by these planes actually happens right before the plane breaks the sound barrier, and therefore is not actually a product of the sonic boom?
America's Angels
Probably the most recognizable incarnation of the F/A-18 Hornet is the famed Blue Angels. Formed in 1946, the Blue Angels team is a Navy flight demonstration squadron and is the second oldest flying acrobatic squadron in the world. Since 1986, the Angels have been flying their trademark blue and yellow F/A-18 Hornets at Airshows and the like to the delight of many.


Specs
Role: Multirole Combat Aircraft
Origin: USA
Manufacturer: McDonnell Douglas, Now Boeing.
Status: In service
Quantity Built: 1480(A/B/C/D Variants)
Powerplant: General Electric F404-GE-402 Turbofans
Thrust: 11,000 lbf each
Afterburner Thrust: 17,750 lbf each
Fuel Capacity: 10,860 lbs
Range: 1089 nautical miles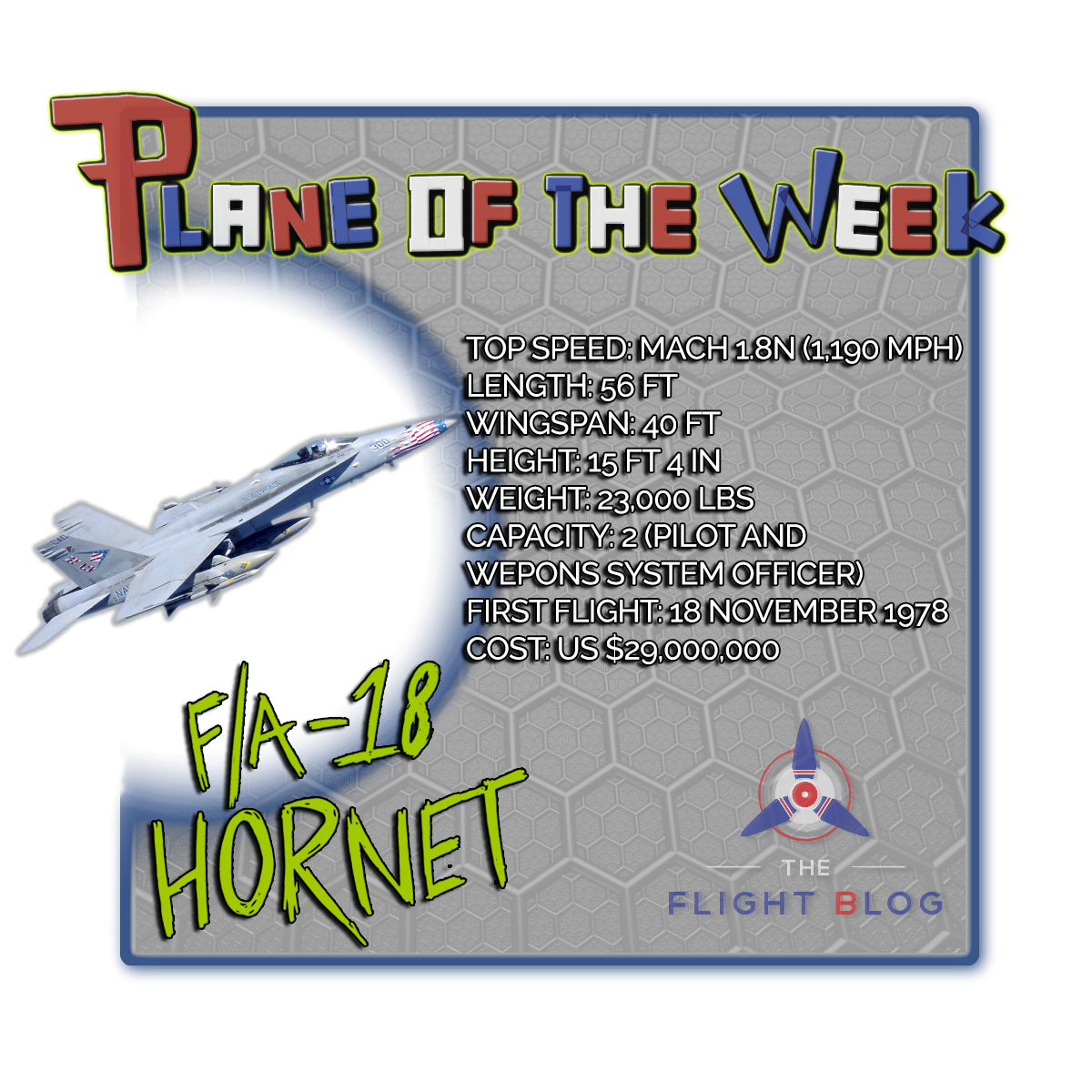 Source(Wikipedia)
Happy Independence day
To everyone about to enjoy the Independence Day weekend, we wish you a safe and happy holiday. Enjoy the long weekend!

Do you have a plane you would like to see featured? We would love to hear your suggestions. Feel free to let us know in the comments section and we will keep them in mind for future Plane of The Week features.